Make a Donation to Lindenwood Billiards
---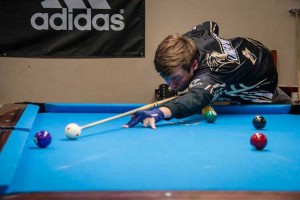 Thank you for visiting our Lindenwood Billiards fundraising page! We sincerely appreciate your passion and enthusiasm for the sport of billiards. The team has been working hard to continue the tradition of excellence that we have established. We are asking for your support to help us continue to be one of the best billiards programs in the country. Thanks, and Go Lions!
How Will My Donations Be Used?
Donations will go toward items that will enhance the billiards experience for our athletes. Promotion and proliferation of the sport of billiards is also an important goal of ours. Team equipment, travel expenses, and facilities are also areas that your kind donations will assist with.
Why Are Donations Needed?
Running a top-flight billiards program is expensive, and we want our athletes to have the best experience possible. Please help us make Lindenwood Billiards truly "like no other"!