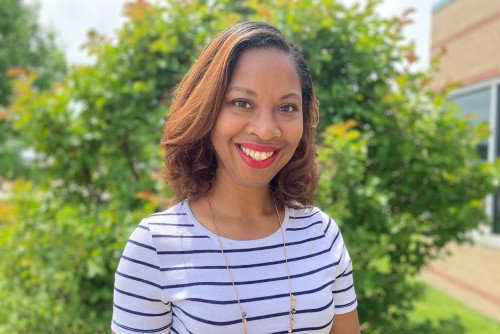 Lindenwood University fashion design and fashion business and entrepreneurship student Kimberly Murphy was selected to participate in the 2022 Gyo Obata Fellowship.
The Gyo Obata Fellowship is a substantive, full-time, summer work opportunity for college undergraduates pursuing careers in arts management from backgrounds that have been traditionally underrepresented in the arts. The 10-week paid summer fellowship program will provide St. Louis college students working towards careers in arts administration with a hands-on introduction to arts nonprofits in St. Louis City and County.
"The internship is invaluable. I love bringing my skillset and passions together. With this fellowship, I will get to develop new, and strengthen current skills. I'm honored to study under arts administrators that are willing to take their time to develop students and their fields of study," Murphy stated.
Murphy is one of nine other college students selected to participate in the fellowship and will be completing her internship opportunity with the National Blues Museum.
As far as advancing her career, Murphy feels that this fellowship opportunity is priceless as she strives to become a fashion business entrepreneur and possibly start a nonprofit organization one day.
"No matter what field you're in or what role you fulfill, you need to know what it takes to sustain a business to help keep it moving forward," Murphy said. "I feel excited for what I will learn about the St. Louis art community and what it takes to keep a nonprofit in service to a community."