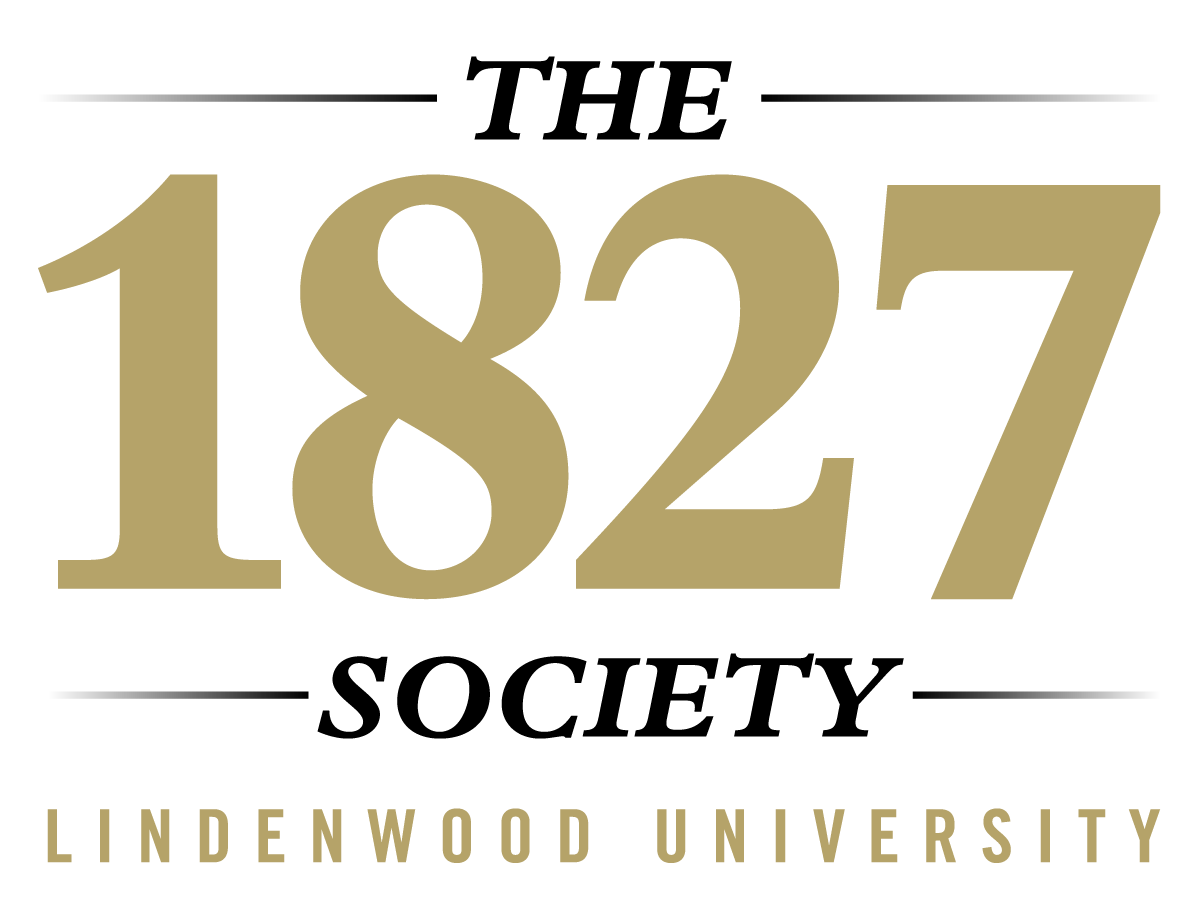 The 1827 Society celebrates those in our community who make a leadership annual gift to one or more of Lindenwood's annual giving priorities. 1827 Society members provide essential support for all aspects of life on campus and demonstrate their commitment to the future of Lindenwood through their generosity.
As a regional leader in higher education, Lindenwood University relies on gifts from 1827 Society members to provide essential support for all aspects of life on campus. Your gifts make Lindenwood more accessible through financial aid, allow the University to attract and retain faculty, and ensure we're able to respond as unexpected needs arise.
To learn more about the 1827 Society, please contact:
Renata Bule
Advancement Officer
(636) 949-4424
Recognition Levels
The Pride Circle: Gifts of $10,000 or more
Horizon: Gifts between $5,000 - $9,999
Clock Tower: Gifts between $2,500 - $4,999
Gate: Gifts between $500 - $2,499
Join or Renew Your Membership Today!
Joining the 1827 Society is simple, fast, and easy. Make your gift below and we'll be in touch with more information on your membership!
Membership Benefits
|   | The Pride Circle | Horizon | Clock Tower | Gate |
| --- | --- | --- | --- | --- |
| Recognition in Donor Honor Rolls and publications | X | X | X | X |
| 1827 Society e-Newsletter | X | X | X | X |
| Annual Impact Report | X | X | X | X |
| Personalized Pride Box with Lindenwood gear | X | X | X |   |
| Campus Brick Paver engraving* | X | X | X |   |
| Campus Swing Plaque engraving* | X | X |   |   |
| Campus Tree Plaque engraving * | X |   |   |   |
| Exclusive Lindenwood Gift | X |   |   |   |
*Available upon request
Priority Funds
The following funds are some of Lindenwood's top priorities and help to power the Lindenwood experience for students, faculty and staff, and the broader community. Your support in these key areas empower us to continue to deliver on our mission.

Lindenwood Annual Fund

The Lindenwood Annual Fund is made up of gifts from thousands of supporters who want to make an immediate and direct impact on Lindenwood. Gifts to the Annual Fund allow us to be flexible and meet the needs of our community as they arise and ensure we can continue to provide an exceptional Lindenwood experience for years to come.

Scholarship Fund

Lindenwood is proud to offer several scholarships for students to help make the cost of education more affordable. Through the generosity of Lindenwood supporters, 98% of Lindenwood students receive some sort of financial aid each year. Your gift the Scholarship Fund empowers our students to focus on their educational goals and aspirations, and graduate with less debt.

Lions' Reserve Fund

The Lions' Reserve Fund provides direct support to students during times of financial hardship. Your gift to the Lions' Reserve Fund ensures that students facing setbacks are able to continue to pursue their degrees and complete their educational journey.

Lions' Relief Fund

Established in response to the ongoing COVID-19 global pandemic, the Lions' Relief Fund addresses the ever-evolving needs of our community through crisis. Gifts to the Lions' Relief Fund offset unforeseen and unpredictable costs necessary to ensure the safety of our community, as we continue to address this ever-changing crisis.

LindenGiving

Established in 2020, LindenGiving is a community outreach endeavor focused on serving the most essential needs of our neighbors here in St. Charles. Each initiative under the LindenGiving program aligns with a University value: excellence, dedication, integrity, creativity, teamwork.
Faculty and Staff Giving
In recognition of the significant contributions Lindenwood's faculty and staff provide to the institution, current employees of Lindenwood are eligible for membership into the 1827 Society at a special rate.

The Pride Circle: $5,000
Horizon: $2,500
Clock Tower: $1,250
Gate: $250

You can make your gift online, or as a payroll deduction. If you have any questions, please contact us at advancement@lindenwood.edu.
Questions?
If you have any questions, please contact Renata Bule, Advancement Officer, at (636) 949-4424 or rbule@lindenwood.edu