The Sibley Medallion of Honor recognized a community leader whose dedication and support continue the Lindenwood University legacy established so long ago by George and Mary Easton Sibley.
2019 Recipient – J. Michael Conoyer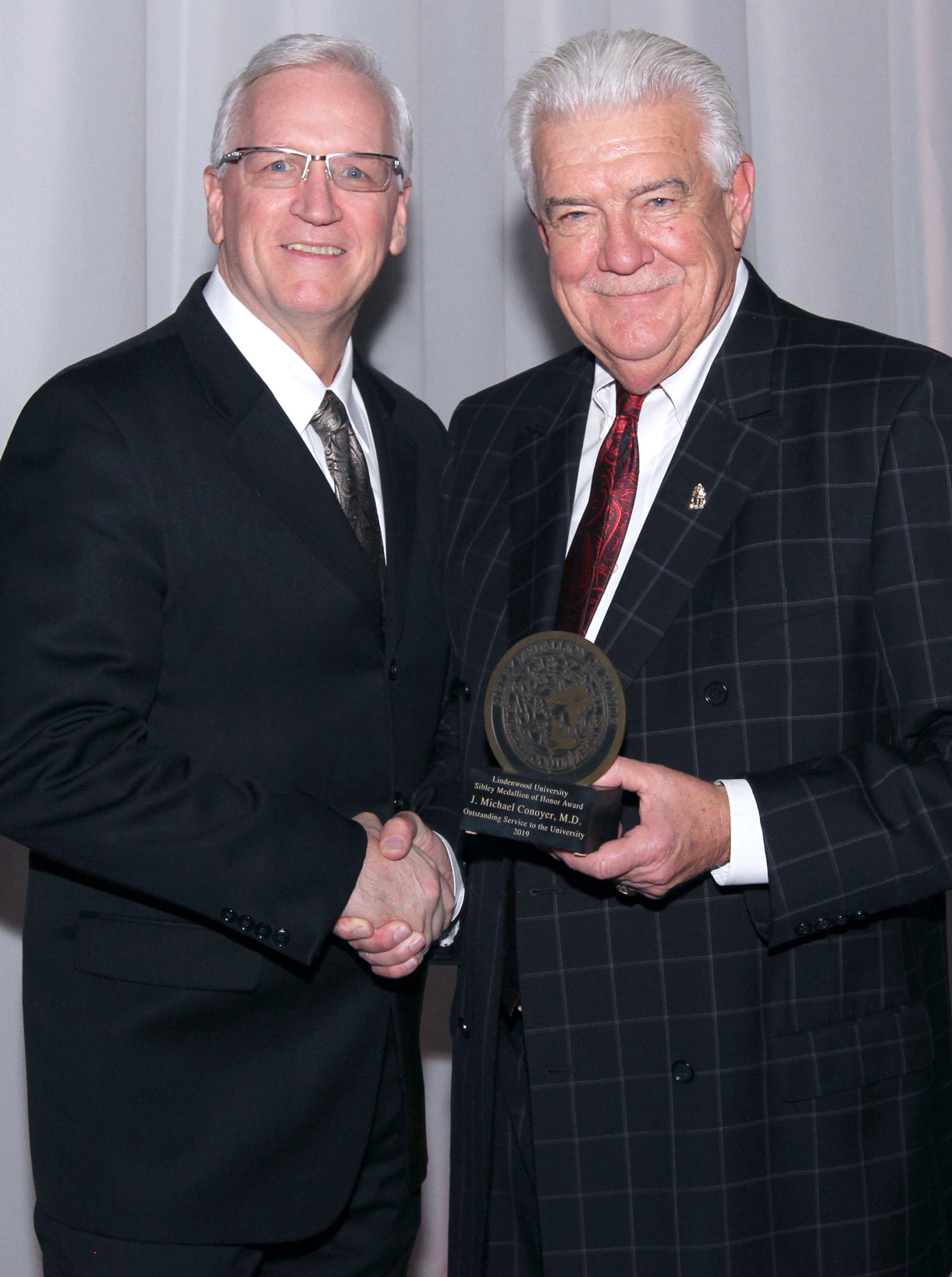 J. Michael Conoyer, MD, is the founder and president of Midwest ENT Centre, P.C., a single-specialty, six-physician ear, nose, and throat practice dedicated to providing a full range of ENT service, including allergy and hearing aid devices, to residents of St. Charles and the surrounding counties. He began his service as Chairman of the Board of Trustees in May, 2017
Dr. Conoyer is a graduate of Southeast Missouri State University and received his MD degree from Vanderbilt University. He completed his ENT residency at Washington University in St. Louis. He served as the president of the Missouri State Board of Registration for the Healing Arts (Missouri's medical licensing board) as well as on numerous local boards. He has been honored by United Services for the Handicapped and Youth In Need for charitable service. He was named Citizen of the Years by the St. Charles Chamber of Commerce in 1994 and received the 2004 St. Peters Chamber of Commerce Distinguished Business Leadership Award. In 1996, he received
the sole American Academy of Otolaryngology-Head and Neck Surgery National Award for Practitioner Excellence.
He and his spouse, Carol, have three children, two of whom practice medicine with him, and six grandchildren.
2018 Recipient - David G. Cosby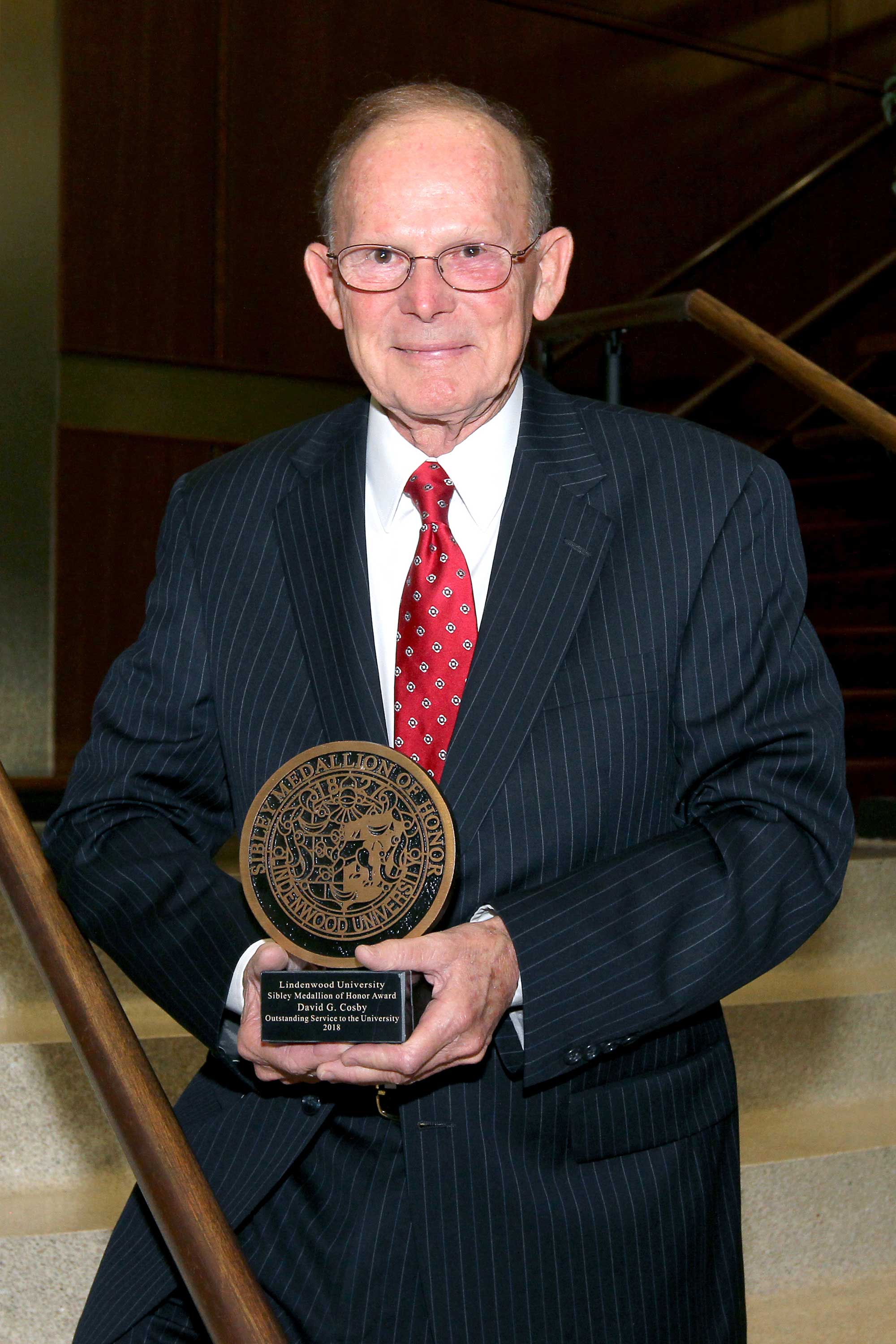 David G. Cosby and his wife, Carol, have two children, Christina and Shawn. Carol, Christina, and Shawn are all alumni of Lindenwood University, and David received his MBA from Washington University in St. Louis.
David and Carol also have three grandchildren who are potential future Lindenwood students. The Cosbys have lived in the St. Louis area for all of their adult lives. David's interests include golf and automobile-related activities.
David currently serves on the Lindenwood Board of Trustees, where he has served for 23 years. He was the director of advancement for Ninos de Mexico, an organization that supports housing, medical care, and education (including college) for homeless children in Mexico City, Mexico. He also serves as a board member of a small Christian college.
2017 Recipient - Jerry E. Scheidegger
Jerry E. Scheidegger is well-known for his dedication to serving the community. Born and raised in St. Charles, Scheidegger, who serves the Board of Directors as Committee Chairman of the Facilities Committee, has been one of the key players in helping to make his hometown area both prosperous and compassionate. After finishing high school and joining the armed service, Scheidegger returned to St. Charles, engaging in small entrepreneurial ventures where he learned everything he could from his personal business experiences.

Today the Scheidegger family owns Corporate Group, Inc., and manages residential and commercial developments the company owns or has ownership in located in St. Charles and Warren counties and Lake of the Ozarks, as well as residential development in Colorado.
2016 Recipient - Douglas M. Mueller
Douglas M. Mueller is co-founder of Mueller Prost and is a leading business advisor for corporate and emerging tax issues. He focuses on high-level tax planning and consulting for high-net worth individuals, business owners, and their related businesses across a broad range of industries.

Mueller has developed a culture and team at Mueller Prost that is dedicated to quality, technical expertise, and service. He sits on multiple professional and charitable boards, including the Missouri Society of Certified Public Accountants.

He has earned various awards, including Who's Who in Law and Accounting by the St. Louis Business Journal, Beyond the Best by Small Business Monthly, St. Louis Top Accountant by a leading business publication, the fourth annual Money Magazine tax contest, and many more.
2015 Recipient - Joseph G. Mathews
Joseph G. Mathews has owned Mathews and Associates since 1985. Prior to that, he worked for Phoenix Life Insurance Company and Stix, Baer & Fuller and was an officer in the United States Army.

He is the past president of the St. Louis chapter of Chartered Life Underwriters and past director of St. Louis Life Underwriters and is in the Phoenix Home Life Insurance Company Hall of Fame. Mathews is also an honorary member of the Board of Directors for the Lake of the Ozarks General Hospital, where he is a past chairman. Mathews is an Eagle Scout with gold, silver, and bronze palms.

Besides serving on the Lindenwood Board of Directors, Mathews is a board member of the SSM Healthcare of Lake Saint Louis and a member of the US Bancorp Advisory Board.

Thanks to Mr. Mathews and supporters like him, our region's students are able to rely on Lindenwood University and its Belleville campus – now, and in the future – for higher education. Mr. Mathews is awarded the 2015 Sibley Medallion of Honor for his great support of Lindenwood.
1979 - 2014 Recipients
2014 - Fred & Barbara Kern
2013 - Rob & Nancy Matheny
2012 - Arthur L. Goodall
2011 - Jim J. Shoemake
2010 - Grace Harmon
2009 - Ron Ohmes
2008 - John Hammond
2007 - Mark Kern
2006 - Nancy Calvert ('61)
2005 - Ben Blanton
2004 - Steve Ehlmann
2003 - Duane Flowers
2002 - Jane Calvert Rogers ('67)
2001 - Betty Tyree Osiek ('62)
2000 - Bill Symes
1999 - Gary Shaw
1998 - Harlen C. Hunter
1997 - Sue Spellmann
1996 - Margaret Ketcham ('33)
1995 - Elizabeth Rauch ('44)
1994 - Anne Pals ('65)
1993 - Larry G. Kelley
1992 - Ruth H. Watkins
1991 - Dorothy Warner ('36)
1990 - Raymond W. Harmon
1988 - Jane Crider
1987 - John C. Hannegan
1986 - Henry J. Elmendorf
1979 - Frank B. Brockgreitens