Masks will be required to be worn inside of the St. Charles Family Arena.
December 10, 2021 at 7 p.m.
Graduate students from all colleges.
December 11, 2021 at 10 a.m.
Undergraduate students from all colleges.
---
#LINDENGRAD21
Graduates, parents, alumni, students, faculty, and staff are invited to celebrate, congratulate, and share using #LindenGrad21.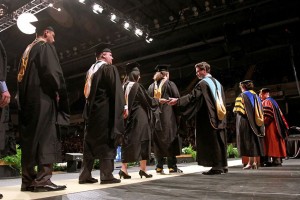 Graduation Streaming Video
Watch LUTV Coverage of Graduation by tuning into Charter 989 or watch LUTV's YouTube channel live event streaming online!

Streaming Video
Social Media Cover Photos
Congratulations to the class of 2021! Celebrate your commencement with a special Class of 2021 cover photo for your LinkedIn, Facebook, and Twitter accounts. Share your achievement with your friends, family, colleagues, and potential employers.
Academic Services
Spellmann Center: Main Street in Lindenwood Station