November 16-18, 2017 | 7:30 p.m.

The Lindenwood Theater
The 2017 Lindenwood University Fall Dance Concert, under the artistic direction of Janet Strzelec, presents a concert exploring history, musicality, and relationships. This fall there are ten works by faculty and students including tap, swing, ballet, and contemporary. The Dance Concert runs from Thursday - Saturday, November 16 - 18 at 7:30 p.m. Admission is $10 for the general public and free for students/faculty/staff with Lindenwood ID. Contact the Box Office at 636-949-4433 for tickets.
Janet Strzelec, Associate Professor of Dance & Program Chair brings two works to the stage. "Fosse abridged" and "Bie Mir Bist de Schon" are energetic and delightful selections from Strzelecs' repertoire. She is happy to give her cast of fourteen students a chance to perform "a little bit of Bob Fosse style jazz dance."
The expertly organized rhythmic tap choreography in "Sympathetic Vibrations," was inspired by Adjunct Professor Tracy Dupre's contemplation's on a quote: "When one bell is rung, by the sound of that bell other bells will also vibrate. So it is with the dancing of the soul... it produces its reaction and that again, will make other souls dance." Hazrat Inayat Khan
"Unity" brings dancers, vocalists, and musicians together to the stage for a contemporary piece exploring the concept of togetherness by Adjunct Professor, Amy Gammon.
Adjunct Professor Betsy Brandt is resetting, with development, a piece that was originally created for the aTrek Dance Collective in 2008. Focusing on different styles and strategies of partnering work, the piece combines elements of melodrama, quotidian functionality, care taking, and being taken care of.
Two student choreographers also present original work. Courtney Krachtus's "IN THE INTERIM" brings to life themes of femininity, humor, and tradition. In "Fragrant Memories, Audible Incidents," Tiala Taylor explores the perceptions of memories and senses.
Tricia Zweier, Assistant Professor of Dance, creates three original works for the Lindenwood Theater. "Quadrant" highlights the delicate strengths of four soloists who move as passersby, unaware of the presence of the others or the common motif that binds them. Set to an original score by music faculty member, Adam Donohue, the eerie piano and the otherworldly atmosphere mimic a dream. Zweier also directs the Lindenwood University Dance Ensemble in two distinctive works. The Radium Girls were female factory workers in the 1920's who suffered radiation poisoning while painting watch dials with the self-luminous paint. Through contemporary phrase work and sweeping patterns, the performers of "Orange, New Jersey (1917)" represent these proud workers and their grief-stricken realization of their own demise. The Ensemble returns to showcase a joyous medley of Zweiers' favorite Stevie Wonder tunes in "Stevland.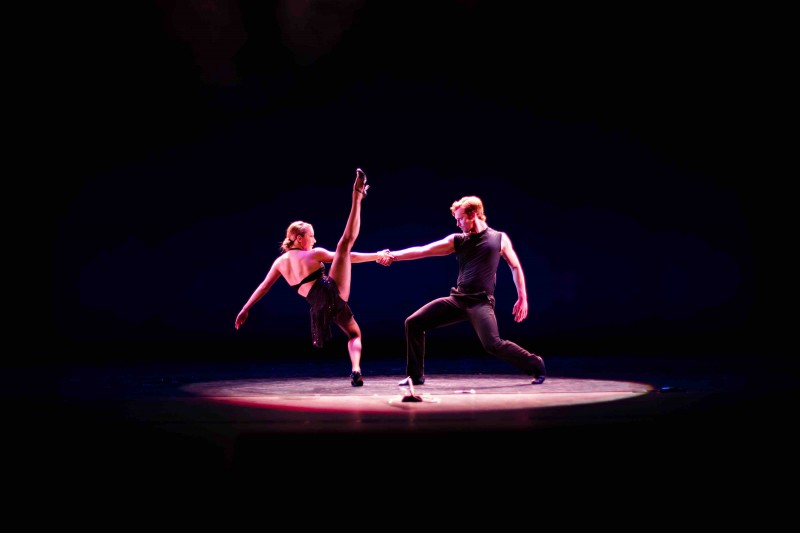 Ticket Prices
General Admission
$ 10.00