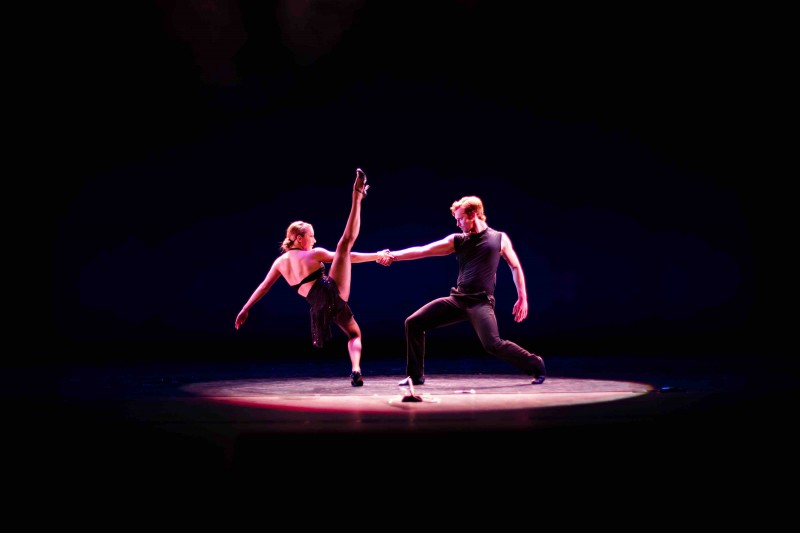 November 8-10, 2018 | 7:30 PM
The Lindenwood University Dance Program presents The Fall Dance Concert
The 2018 Lindenwood University Fall Dance Concert, under the artistic direction of Janet Strzelec, presents a concert exploring the diverse genres in which our talented performers are training. This fall there are eleven works by faculty and students in styles including jazz, tap, ballet, contemporary, and improvisation. The Dance Concert runs from Thursday - Saturday, November 8 - 10 at 7:30 p.m. Admission is $10 for the general public and free for students/faculty/staff with LU ID. Contact the Box Office at 636-949-4433 for tickets.
Janet Strzelec, Associate Professor of Dance & Program Chair, will restage "When the Gods Danced." Originally inspired by sculpture and art work of the Greco-Roman wrestlers, it was intended to illustrate the masculine identity with combat. With three women performing the same choreography, Strzelec will establish that this choreography can be gender neutral. She will also re-stage a pointe piece, "The Little Fugue," and direct The Lindenwood University Dance Ensemble on a collaborative piece of choreography dedicated to Aretha Franklin.
Adjunct Professor Amy Gammon will present an original work "An Evening I Will Not Forget," exploring dynamic relationships and the use of contrasted lyrical and contemporary movement qualities.
In Betsy Brandt's "State of Emergency," a group of people experience and navigate an atmosphere of general unease and tension. Movement influences include dynamic partnering, formal courtly intricacy, ecstatic club dancing, and sweeping release technique. Brandt will also direct the students of a special topics course, "Improvisational Methods in Dance," where students use a "score" to create movement on-the-spot.
"Dissent" is inspired by the generations of women who have fought for equal rights, those that struggled with the intersection of race and gender discrimination, and the powerful champions who dared to be catalysts for change. This work, by adjunct professor Lindsay Hawkins, explores the progress that women have made as well as the frustration with our current political climate. Hawkins states, "Although historically it's been the men who lead, speak, and represent us to the world, these powerful dancers are using movement, connection, and empathy to seek change and find their voices."
Adjunct Professor Tracy Dupre's "Speaking in Time" is an acapella tap piece alive with a myriad of rhythms, time signatures and poly-rhythms. This percussive piece focuses on clarity of sounds, intricate patterns, accenting, and syncopation. With the combination of wooden tap boards and metal taps, this piece is literally, "Music for your ears!" In the words of Tom Althouse, "Life follows a rhythm and we hold the drum."
In collaboration with the Lindenwood University TV station, Associate Professor Tricia Zweier uses live video capture and projection throughout an original work set to an energetic sound score. While the group moves through quirky phrase work and poised posturing, the visual experience is enhanced by the deliberately designed and ever changing "Shifting Perspectives."
Finally, two student choreographers also present original work. "Metathesiophobia" is persistent fear of change. Emilie Harty explores this hardship in her work with eight women using sharp and expressive movement. In fulfillment of her senior project, Kelsey DeRousse will present "Breathe for me." This work is demonstrates the struggles and chaos inside of a person who lives their life with generalized anxiety disorder.
Join us as we celebrate the achievements of our students and the innovative works by the talented faculty of The Lindenwood University Dance Program!
Seating is general admission. All Lindenwood University faculty, staff, and students can receive two complimentary tickets with a valid university ID.
The Lindenwood Theater
General Admission
$ 10.00