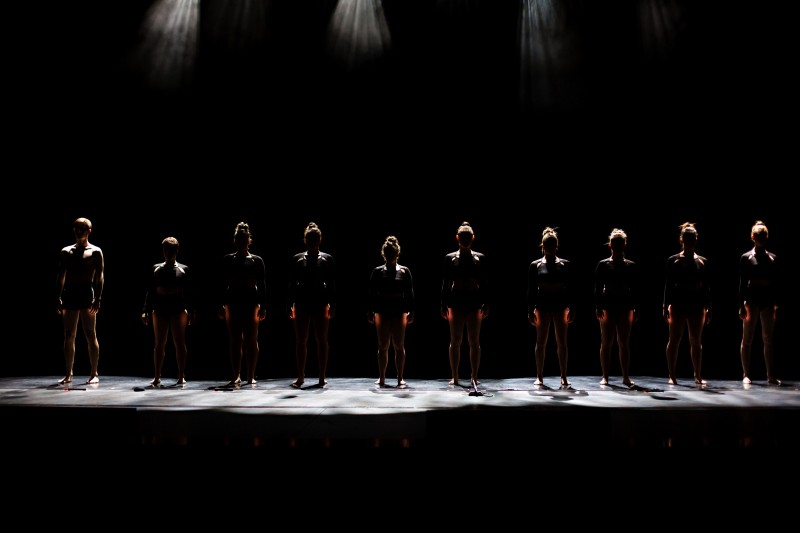 April 19 – 21, 2018 | 7:30 p.m.

The Lindenwood Theater
The Lindenwood University Dance Program presents The Spring Dance Concert and celebrates our 20th anniversary season!
The 2018 Lindenwood University Spring Dance Concert, under the artistic direction of Janet Strzelec, presents a concert exploring the diverse genres in which our talented performers are training. This spring there are ten works by faculty and students in styles including West African, jazz, tap, ballet, and contemporary. The Dance Concert runs from Thursday - Saturday, April 19 - 21 at 7:30 p.m. Admission is $10 for the general public and free for students/faculty/staff with LU ID. Contact the Box Office at 636-949-4433 for tickets.
Janet Strzelec, Associate Professor of Dance & Program Chair will re-stage "A Petit Allegro" on seven students. She is happy to give her cast the chance to perform a brisk and lively ballet. The hybrid of jazz and burlesque in "Burlesque," was inspired by Adjunct Professor Tracy Dupre's experimentation with tables, chairs, costume changes, and dance fusion.
Adjunct Professor Amy Gammon will present two original works this spring. "That's swing" is an upbeat and entertaining work for ten jazz dancers. "Doctor Jazz" is an exciting musical theatre piece for more than thirty tap dancers. Adjunct Professor Diádié Bathily will present "The Great Witches of Sundiata, King of Mali." The epic of Sundiata chronicles the rise of the empire of Mali, one of the three great Sudanic empires that dominated the grasslands of northwestern Africa for over one thousand years.
Tricia Zweier, Assistant Professor of Dance, directs The Lindenwood University Dance Ensemble in two original works for the Lindenwood Theater. Each night in "Honor the loss" a soloist performs nuanced changes to the choreography as representative, not of the choreographer's journey, but that of a close family member. The Ensemble also opens the show with a joyous celebration of athletic movement in "Moore meets Brown."
In addition to The Dance Program faculty, Guest in Dance Kate Harpootlian, composed an original work on nine dancers titled, "Awaken each one, awaken" during her one-week residency. Meditation, and finding peace in the chaos of the mind, is an evident theme in this piece. Disorder slowly transitions to a place of peace and light.
Finally, two student choreographers also present original work. "Hypnagogia" is the experience of the transitional state from wakefulness to sleep. Mental phenomena that may occur during this "threshold consciousness" phase include lucid thought, lucid dreaming, hallucinations, and sleep paralysis. Mariah Rollwagen's trio was motivated by research of this state. Morgan Brockmiller's "Cimarron Circle" was inspired by memories of her adolescence and those of her cast in the creation of this work, titled after the location of her childhood home.
THE LINDENWOOD UNIVERSITY DANCE PROGRAM 20th ANNIVERSARY
In the late 1920s, under the leadership of Physical Education Director, Margaret Mantle Stookey, Lindenwood College offered courses in dance and produced annual dance concerts in and around Roemer Auditorium. In 1954, Grazina Ona Amonas became the first Director of Dance at Lindenwood College. Her studies with Doris Humphrey, Mary Wigman, Martha Graham, José Limón, and Louis Horst, informed her diverse perspective. Women attending Lindenwood College learned from notable Guests in Dance including Ted Shawn, Charles Weidman, Alvin Nikolais, Daniel Nagrin, Ethel Winter, and Gerda Zimmerman. After several programs were suspended during the 70s and 80s, the dance program was revitalized under the direction of Dance Program Director, Alice Bloch. In 1991, she restored the rich offering of dance courses and in 1997 launched the Bachelor of Arts degree in Dance. Today, the Lindenwood University Dance Program continues to increase the breadth and depth of the course offerings to better prepare our ever-growing Bachelor of Arts and Bachelor of Fine Arts candidates for careers in dance. As we approach Lindenwood University's 200th anniversary, we celebrate the rich history of traditions in dance, the achievements in our current program, and the excitement of looking toward the future of dance at Lindenwood.
Ticket Prices
General Admission
$ 10.00