Lindenwood University is a "Yellow Ribbon School."
Lindenwood University has a place for you!
Lindenwood University's Veterans Affairs Center is dedicated to veterans and active military members. Stop by and learn more about our degree programs. Relax in a comfortable setting while you're on campus. Our supportive staff members are dedicated to making your time at Lindenwood productive and enjoyable.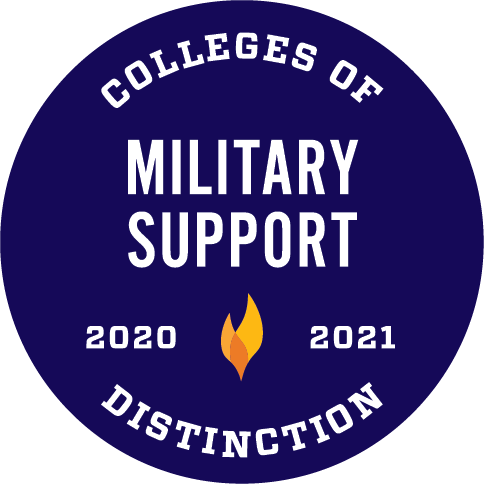 You'll find us in the Library and Academic Resources Center (LARC), Room 018A. Take the elevator to the bottom floor and travel through the Connection (just past KCLC and the Department of Internet Technology).
Here are topics you can learn more about during your visit to the Veterans Affairs Center:
Admissions processes and requirements
Degree program options
Course scheduling
VA requirements
ROTC options
Campus dining services
Fitness facilities
Library services
Remote access to student portals
Parking decals and student I.D. cards
Lindenwood University recognizes the sacrifice that our military men and women and their family members have made to our country. Therefore, we feel that it is our obligation to serve you in any way we can through advancing your education. Therefore, the center is here to assist the military students attending Lindenwood University, in all programs, using educational benefits under Department of Veterans Affairs (VA) Educational Assistance Programs in the pursuit of their educational goals.
Come see us! Call (636) 627-2922 or email Nia Spencer. Veterans seeking help from the Business Office should contact Kelly Ahne at (636) 949-4927.
You may utilize the following benefits at Lindenwood
Chapter 1606
Chapter 30
Chapter 31/Vocational Rehabilitation
Chapter 33/Post 911
Chapter 33/Post 911 Transfer of Benefits
Chapter 35/dependents and spouses of Disabled veterans
John Fry Scholarship
And many more…
Eligibility
Veterans who believe they may be eligible for benefits can receive information and applications through the V.A. Certifying Official at the University. Educational assistance is also provided to widows or children of veterans who died in service or as a result of service related injuries. Spouses and children of disabled veterans are also eligible for assistance. It is the responsibility of the students to notify the V.A. Certifying Official of any changes in their class schedules.
The Registrar's Office promptly reports to the Veterans Administration when notified that a veteran is making unsatisfactory progress or has withdrawn from a class or from studies. Because of requirements imposed by the Veterans' Administration, and as a condition of being certified to receive benefits from the V.A., the student receiving such benefits acknowledges the following policies, which may differ from those required of other students at Lindenwood: The University will notify the V.A. of all terminations, interruptions, or changes in semester-hour load within 30 days. This may change the benefits available to the student.
The student accepts the responsibility of notifying the Registrar, the V.A. Certifying Official at the University, and his/ her advisor immediately in case of withdrawal from any course.
The student accepts the responsibility of notifying his/her instructors of any expected absence from class. A student may be withdrawn by the University for excessive absence.
The Veterans Administration will be informed that progress is no longer satisfactory with the accumulation of 12 or more hours of F grades.