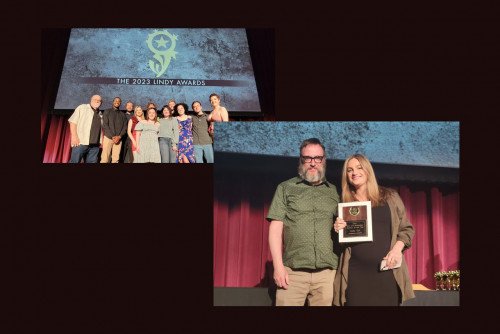 In 2005, Lindenwood University celebrated its first Lindy Awards show – an annual spring event that highlights the work of students in the communications department, including Mane Media and KCLC Radio.
As it evolved, the Lindy Awards have expanded to include the work of students in advertising, dance, digital media, fashion, and journalism. More recently, high school categories have been included in the ceremony.
Communications graduates also are chosen as Alumnus of the Year. Some of those winners over the years include Director of the Missouri film, "Office," Andrea Sporcic; broadcaster Glen Cerny; Lindenwood Hall of Fame basketball player and Saint Louis University color analyst Earl Austin Jr.; ESPN Radio host Randy Karraker; Longtime KSHE DJ Guy Favazza; and former St. Charles Mayor Patti York.
The College of Arts and Humanities is proud to announce Emily Beck Orf, an Emmy award-winning broadcast producer for KMOV, as the Alumnus of the Year. Below is the list of the 2022-23 Lindy Awards winners.
Shorts (videos 15 minutes and under)
Best Fiction: Christina DeSalvo, "I Must Confess"
Best Documentary: Nic Hotop, "Lone Survivor"
Best Music Video: Christina DeSalvo, "If I Knew"
Best Sound Design: Connor James, "Lizards Cable II Peter Carlos is Dead"
Best Cinematography: Nic Hotop, "Lone Survivor"
Best Directing: Christina DeSalvo, "I Must Confess"
Best Editing: Christina DeSalvo, "I Must Confess"
Best Performance (Male): Phillip Solheim, "I Must Confess"
Best Actress (Female): Adeline Myers, "Jolene: A Fan-Made Music Video"
Broadcast
Best Camerawork, Sports Telecast: Mason Goffoy, "Best Camerawork: Lindenwood Sports"
Journalism
Print/Online Journalism, Best Published News/Sports Article: Bobbie Morrison, "Lindenwood Student Government Votes to Deny Turning Point USA"
Radio
Podcast: Lauren Potter, "What the Heck is College"
Graduate
Graduate, Best Narrative: Krista Biggar, Uninhabited
Graduate, Best Male Talent: Paul Cereghino, Uninhabited
Graduate, Best Directing: Krista Biggar, Uninhabited
Graduate, Best Editing: Krista Biggar, Uninhabited
Fashion
Most Marketable Design: Mikkel Burnside, "Senior Collection Look 2"
Most Sustainable Design: Mikayla Tjeerdsma, "Baker Street Mini Collection"
Best E-Commerce/Online Business: Daeja Anderson, Mini Collection and Website
Best Use of Fashion Technology: Mikayla Tjeerdsma, "CAD 4: CLO"
Dance
Most Outstanding Choreography (Freshman or Sophomore Dance Major): Lauren Beth Head and Emma Maxey, "Chemical Reaction"
Most Outstanding Choreography (Junior or Senior Dance Major): Makenna Oster, "Slumberland"
High School
Cinema: Best Short Documentary: Ulises Hernandez, Ritenour, "Ritenour Entrepreneurs"
Cinema: Best Short Fiction: Patton, Francis Howell Central, "The Fairy and Me"
Cinema: Best Animation: Aqua Burton, Francis Howell Central, "Spiderman vs. Green Goblin"
Broadcast: Best Live Sports Telecast: Brady Kilker, St. Charles West, "St. Charles West Basketball vs. Orchard Farm Eagles"
Best Radio/Broadcast Program: Danielle Haynes, Ritenour, "Principal Turnover at RHS"
Alumni
Alumnus of the Year: Emily Beck Orf