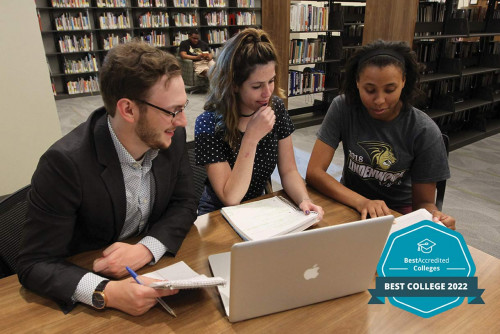 Best Accredited Colleges has ranked Lindenwood University in the top 25 on their 2022 list of Best Bachelor's Degrees in Cybersecurity. Ranked number 23 when evaluated against institutions nationwide, Lindenwood's program earned placement on the list based on the quality of education, outstanding faculty, campus resources, and financial aid award data.
"Lindenwood University's Cybersecurity curriculum is strong, high-quality, and industry-driven," Professor of Information Technology Dr. Angela Holden said. "Our instructors hold professional certifications and degrees in their fields, and most of them are employed full-time by major corporations.  They are in tune with the latest developments in the field, have real-world experience to bring into the classroom, and are awesome mentors for our students to prepare them for their careers in Cybersecurity. This is what makes Lindenwood University's Cybersecurity program special!"    
Increasing demand for cybersecurity professionals is supported by Lindenwood's commitment to providing students with real experience, so they can demonstrate real success in the workplace. Lindenwood cybersecurity students have secured internships at companies such as Mastercard, World Wide Technologies, and SpearTip. Upon graduation, recent alumni have found careers at major organizations including AT&T, Boeing, Microsoft, and Coolfire Solutions.
Lindenwood offers a Bachelor of Science in cybersecurity in on-ground and online formats. As the field rapidly grows, Lindenwood University is preparing graduates to achieve, supported by faculty with extensive professional knowledge and industry expertise.