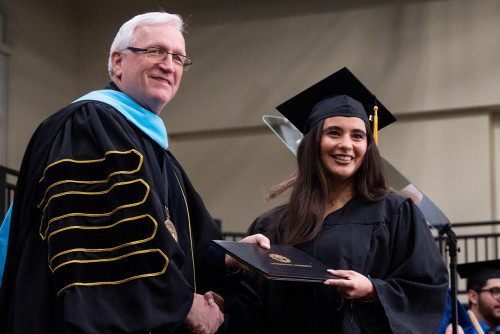 Lindenwood University will host its winter commencement ceremonies on Saturday, December 10 at the Hyland Arena on campus.
The ceremony for graduates of the College of Science, Technology, and Health, and the College of Education and Human Services will occur December 10 at 10 a.m. The ceremony for graduates of the Plaster College of Business and Entrepreneurship and the College of Arts and Humanities will occur December 10 at 3 p.m. Both ceremonies will be live-streamed and available for viewing.
Students participating in the ceremonies should arrive an hour prior to the ceremony and report to the front door of Evans Commons to check-in.
Doors to Hyland Arena will open 90 minutes prior to each ceremony for guest seating, and guests must have a ticket to enter. Seating is available to ticketed guests on a first-come, first-served basis, with accessible seating available as needed.
Graduates and family members are encouraged to share their moments of celebration and use #LindenGrad22 on Facebook, Instagram, and Twitter.