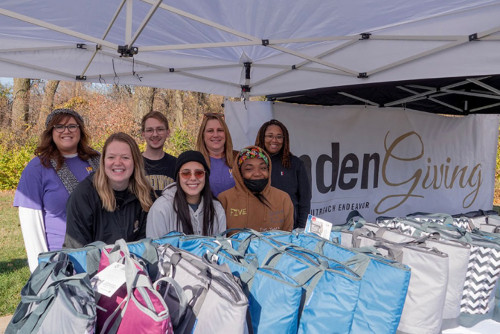 This past weekend, in the spirit of giving, Lindenwood volunteers packed and delivered bags full of Thanksgiving meal essentials to local families in need.
This is the second year, LindenGiving, a community outreach endeavor, has partnered with OASIS Food Pantry to provide 100 Thanksgiving meals to neighboring St. Charles families.
Lindenwood University President, Dr. John Porter and his wife Beverly, were joined by university employees and students who volunteered their time to pack and deliver meals to preapproved families in the community. Thanksgiving meals were delivered to homes by volunteers or picked up from Lindenwood campus.
"Giving back to our community is the heartbeat of this organization. Not only do we want to supply a special Thanksgiving dinner with all of the fixings, but we hope to provide experiences that will translate into lifelong memories for these families," said LindenGiving Chair Beverly Porter. "We are so grateful for all that we have been given and are so thrilled to again be able to share with others.
LindenGiving has also been identified as the University's Giving Tuesday initiative, which invites supporters to make a gift in the spirit of the holidays. If you would like to contribute financially to LindenGiving, please make your gift this month.
The LindenGiving program hosts quarterly outreach initiatives to directly impact the city of St. Charles.