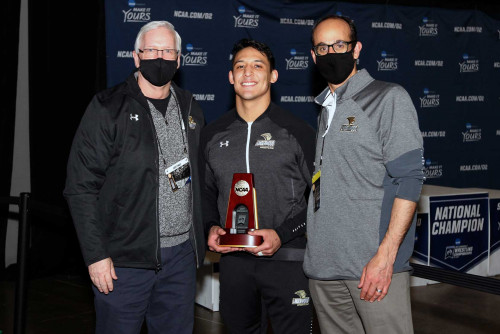 Lindenwood University junior Abner Romero won the 2021 NCAA Division II National Championship title for wrestling at 174 pounds. In addition, Romero along with five teammates achieved All-American status as the team finished third.
Originally from Fresno, Ca., Romero is majoring in physical education and has had an impressive career at Lindenwood. The 2020-21 season marks the second time he has been named an All-American. "I predicted this," said the 174-pound champion Romero. "A year ago today, I had this moment taken from me…This is not random, I worked harder than everyone else and just believed that I was better than everyone else. I'm better than I was a year ago, and all the hard work I put in paid off."
The complete story is available on the Lindenwood Athletics site.
Photo Credit: Don Adams Jr.