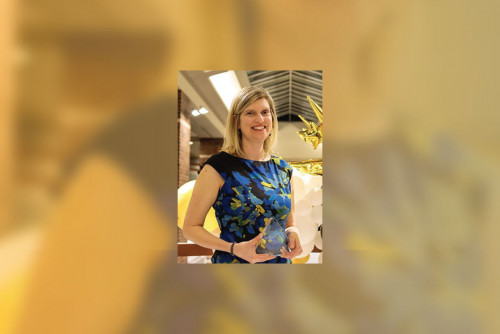 Sarah Ehlen received the Alumni Merit Award from Lindenwood University in April.
The Alumni Merit Award recognizes alumni who have enhanced the prestige of Lindenwood through their character, integrity, career, and personal accomplishments. Traditionally, the award has not been given in recognition of a single remarkable achievement, but it has been reserved for those alumni who have attained and maintained extremely prominent levels in their chosen career paths and in their service to society.
Ehlen, who graduated with a Master of Business Administration in 2003, was nominated by her classmates for the honor. Ehlen was thrilled to have received the award.
"I am honored and humbled to receive the distinguished alumni award," Ehlen said. "Getting my MBA from Lindenwood University was a critical step in my career, and I am grateful for the education I received."
This award highlights Ehlen's display of excellence – a core value at Lindenwood – throughout her 22-plus years working at Boeing. She currently serves as the Air Dominance Director of Systems Engineering, where she is responsible for the strategy, deployment, and execution of Systems Engineering processes.
Ehlen, who currently lives in St. Louis, is one of three alumni that received awards. Jodell Larkin was honored with the Alumni Service Award and Jordan Boedeker took home the Young Alumni Award.