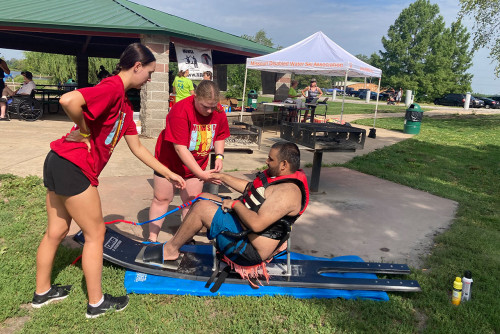 Lindenwood University students studying recreation therapy practiced what they've learned in the classroom during a summer course. Processes and Techniques of Therapeutic Recreation allowed students to gain first-hand experience helping run and organize the Summer Splash event with the Missouri Disabled Waterski Association.
The event, which was held at Creve Coeur Lake from July 28-29, offered people with disabilities the opportunity to get in the water and have a couple days of fun. Each skier was assessed and fitted with their own personal style and equipment.
Assistant Professor of Physical Education Heather Pennington is the MDWSA program coordinator, and she has volunteered with the volunteer-run organization for the last 10 years.
"We really see lives changed as people with disabilities are shown the possibilities that are out there for recreation," Pennington said. "It opens their mind to the truth that they can accomplish anything."
Pennington's students took advantage of what they've learned and incorporated their skills into real-life experiences throughout the two-day event. They assisted skiers, helped drive boats, and ensured everyone's safety both in the water and on shore.
"It has been a great experience that teaches students the course content and hands-on learning," Pennington said. "They are being impacted and learning while also impacting so many others in our community. I am so grateful for the exposure and opportunity for these students."