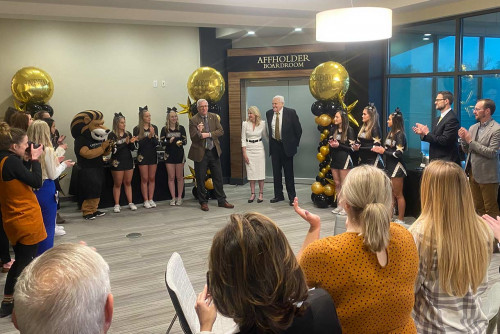 In a special ceremony on Wednesday, Lindenwood University recognized Bob Affholder and Shelly Roy with a ribbon cutting for the Affholder Board Room. Located on the third floor of the Library and Academic Resources Center, the Affholder Board Room serves as a key component of the Office of the President.
"Throughout his career, Bob Affholder has been an industry pioneer and community leader, reflecting values like integrity and dedication… Alongside Bob has been Shelly, who has also been an advocate for others," Porter said. "Together, Bob and Shelly have made their mark in countless ways and have been continual supporters of our community and of Lindenwood University. Today, it is my great honor to recognize Bob and Shelly and celebrate the official opening of the Affholder Board Room, here at Lindenwood University."
Bob Affholder's business endeavors began in 1958 when he started the underground industry at Armco Steel Company, driven by an entrepreneurial spirit. He currently serves as vice chairman of SAK and has helped lead one of the fastest growing pipeline rehab companies in the industry. His entrepreneurial spirit is visible on Main Street in St. Charles at Novellus, Burger Underground, and Valenti's Delicatessen.
Shelly Roy's contributions to the community are also visible on Main Street, at Forget-Me-Not Park located at 150 South Main Street. The park was conceived by the Bev Roy Hope Foundation, which Roy established in 2019 to honor her mother who battled Alzheimer's.
Together with Porter, Affholder and Roy cut the ribbon on the new board room, surrounded by Lindenwood faculty, staff, and students.