Directory
Return to Previous Page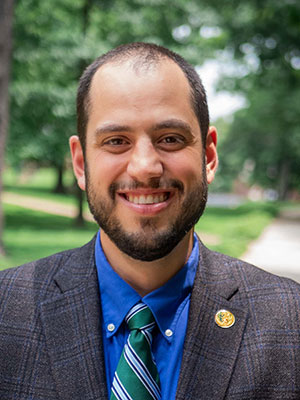 McMaken, W. Travis
Associate Professor, Religion
School of Humanities - Public Affairs, Philosophy, Region, and Interdisciplinary Studies
Butler Hall 319
(636) 627 2507
WTMcMaken@lindenwood.edu
Course Information
---

FA SEM 16
REL 15000 14
World Religions (GE-Phl-Rel/CrsClt)
FA SEM 16
REL 25100 11
Jesus: His Life and Influence (GE-Phl-Rel)
FA SEM 16
REL 33000 11
Religious Upheaval in 16th Century Europe (GE-Phl-Rel)
FA SEM 16
REL 40000 ARWM
Senior Project
SP SEM 17
REL 15000 OL01 ONLNE
World Religions (GE-Phl-Rel/CrsClt)
SP SEM 17
REL 24000 11
Introduction to Judaism (GE-Phl-Rel/CrsClt)
SP SEM 17
REL 32000 11
The Christian Faith (GE-Phl-Rel)
SP SEM 17
REL 40000 ARWM
Senior Project

---
Biography
Dr. McMaken joined the Department of Religion at Lindenwood University in 2011. In addition to his teaching, advising, and curricular responsibilities with the department, he advises the Lindenwood Delta Tau Delta colony and serves on the Humanities Research Committee. Although concentrating in Christian theology, McMaken also has interests in philosophy of religion, Chinese religions, and the intersection of religion and politics. As a systematic theologian within the Reformed branch of the Christian tradition, McMaken specializes in sacramental theology in general, baptism in particular, the work of Karl Barth, and other figures such as John Calvin, Thomas F. Torrance, Helmut Gollwitzer, Augustine of Hippo, and the Cappadocian fathers.

Dr. McMaken also chairs the General Studies department.
---
Memberships
American Academy of Religion

Karl Barth Society of North America

Thomas F. Torrance Theological Fellowship
---
Teaching Interests
McMaken regularly teaches the following classes:

- REL 15000, World Religions


- REL 20100, History of Christianity

- REL 24000, Introduction to Judaism

- REL 25100, Jesus: His Life and Influence
- REL 31800, Asian Myth and Religion
- REL 32000, The Christian Faith

- REL 32600, Faith and Reason

- REL 33000, Religious Upheaval in 16th century Europe
- REL 40000, Senior projects for majors in the department
---
Selected Publications
W. Travis McMaken, Our God Loves Justice: An Introduction to Helmut Gollwtizer (Fortress Press, under contract).

W. Travis McMaken and David W. Congdon (eds.), Karl Barth in Conversation (Eugene, OR: Pickwick Publications, 2014).

W. Travis McMaken, The Sign of the Gospel: Toward an Evangelical Doctrine of Infant Baptism after Karl Barth (Minneapolis, MN: Fortress Press, 2013).

W. Travis McMaken, "The Impossibility of Natural Knowledge of God in T.F. Torrance's Reformulated Natural Theology," International Journal of Systematic Theology 12.3 (2010): 319–40.

W. Travis McMaken, "Authority, Mission, and Institution: A Systematic Consideration of Matthew 28.18-20 in Karl Barth's Doctrine of Baptism," in Ecclesiology 5.3 (2009): 345–61.

W. Travis McMaken, "Election and the Pattern of Exchange in Karl Barth's Doctrine of the Atonement," in Journal of Reformed Theology 3.2 (2009): 202–18.
---