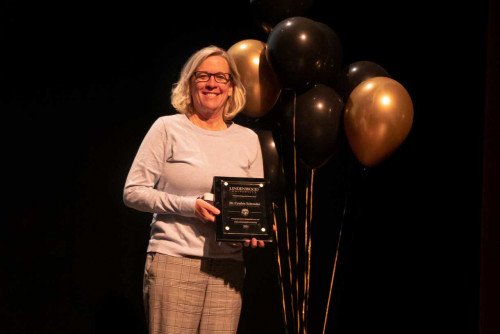 Lindenwood President, Dr. John R. Porter, awarded the inaugural President's Distinguished Service Award to Dr. Cynthia Schroeder, dean of the school of health sciences.
"This is a prestigious award which will only be given on rare occasions, to special employees. The inaugural recipient has stepped up to lead and provided knowledge to guide us through the most unique and difficult semesters we've ever seen," said Porter.
For the past year, Schroeder has led the University's Pandemic Preparedness Task Force and COVID-19 Emergency Response Team in addition to serving in her role as dean. Awarded in recognition of extraordinary service to the University, Porter commended Schroeder on her leadership and diligence in making tough decisions to protect the campus community and enable Lindenwood to have a successful academic year.