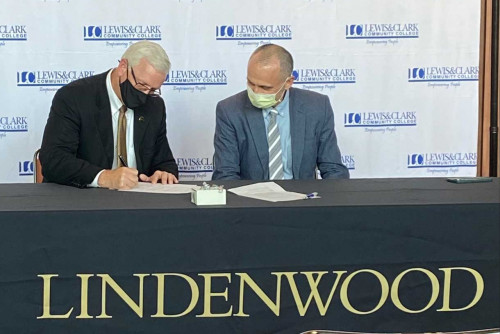 A new bridge partnership will provide direct transfer pathways for Lewis and Clark Community College students to earn a four-year degree at Lindenwood.
At a ceremony held in Lewis and Clark's Hatheway Cultural Center, Lindenwood University President Dr. John Porter and Lewis and Clark Community College President Dr. Ken Trzaska signed the Memorandum of Understanding that will guide this program.
"Welcoming Illinois students from Lewis and Clark Community College will continue to enrich the campus community at Lindenwood," shared Porter. "This program facilitates a clear path for Lewis and Clark students to earn their bachelor's degree from Lindenwood and will enhance both campuses in many ways."
Porter and Trzaska were accompanied by senior leadership from each institution. Dr. Bethany Alden-Rivers, interim provost and vice president for academic affairs, Terry Whittum, senior vice president for enrollment management and student engagement, and Don Tuttle, chairman of the board, represented Lindenwood. Joining the event from Lewis and Clark were Dr. Lori Artis, Dr. Jill Lane, Dr. Sue Czerwinski, Brett Reinert, Dr. Sean Hill, and Kate Kessler, representing leadership across campus in both academic and student services.
In addition to providing an academic bridge, this partnership will also support continuing education with the Clark Scholarship, awarding up to $12,000 annually to qualified students from Lewis and Clark.