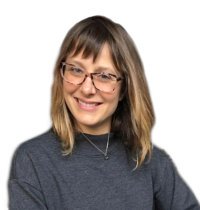 Lindenwood alumna Erin Wolfman May has been chosen to receive the 2021 JProStl Peer Award for Dedication, presented by JProStl in recognition for her work in the Jewish community. Erin earned a bachelor's degree in communications and a master's in nonprofit administration from Lindenwood University.
Erin has led the communications department at Congregation Temple Israel for five years and manages the congregation's communication strategy and community partnerships. In addition to her work at Congregation Temple Israel, Erin has engaged in many volunteer roles both domestically and internationally.
Award recipients were selected by a committee comprised of JProStl leadership and former award winners. Erin's award will be presented at the 16th Annual JProStl Recognition Event which will be held virtually in January 2021. JProStl, an initiative of the Jewish Federation of St. Louis, is the professional association for staff who work at 50 nonprofits affiliated with the St. Louis Jewish community.
Erin and her husband Matt, their two children Zoe and Josh, and their two furbabies Skippy and Severna, live in St. Louis, Mo. and attend Congregation Temple Israel.