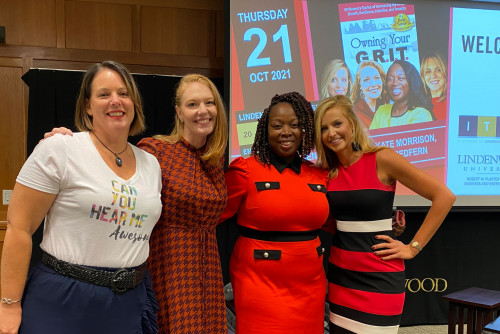 By Gabby Buchholz
Halfway through the semester is no time to slow down. Taking care to focus on learning opportunities outside the classroom is a great way to stay motivated. Students in the Plaster College of Business and Entrepreneurship had the exciting opportunity to see two events as part of the Global Women Entrepreneurship Week (WEW). On October 18-22, 2021, Lindenwood joined in the international celebration featuring events that highlight businesses or non-profits that have a female founder.
Molly Hudgins, Dean of the Plaster College of Business and Entrepreneurship (PCB&E), oversaw the two events hosted at Lindenwood: a presentation by Amy Mills, winner of the coveted Barbeque Heroine prize, and a panel from the authors of Owning Your G.R.I.T., an Amazon bestseller highlighting the journeys of over 40 female entrepreneurs.
The events contributed to the university's initiative to not only engage students in activities and events on campus but also with the St. Charles community at large.
"These events were attended by not only Lindenwood students, faculty, and staff but also the entrepreneurial community and leaders from the St. Charles and St. Louis economic development agencies," Hudgins said.
Lindenwood was inspired to host these events due to an invitation to be a part of WEW. "We are among a network of other universities who have a focus on the entrepreneurial mindset that hosted events to honor women in entrepreneurship this week," Hudgins said in October.
Other universities who make up this network include Florida State University, University of Denver, and West Virginia University.
While engaging with the community at large, the events also allowed for diversity and inclusion to be a part of the conversation when it comes to entrepreneurship.
"Events such as this highlight the commitment that the PCB&E and Lindenwood University has to diversity, equity and inclusion," Hudgins said. Through real experience and real success exemplified by these women, students saw a whole new perspective to entrepreneurship to inspire them moving forward.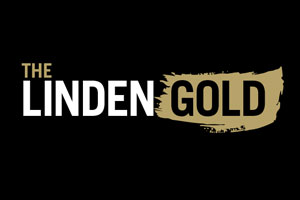 The Linden Gold
The Linden Gold is a student operated organization focusing on promoting the academic success and achievements of Lindenwood. Through stories about alumni, current students, and faculty alike, The Linden Gold strives to engage with the St. Charles Community and showcase the unique greatness of Lindenwood.

The Linden Gold