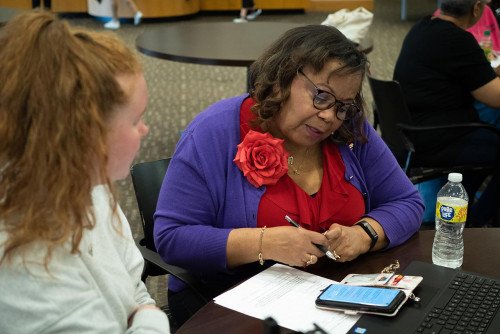 By Whitley Huxhold
The College of Science, Technology, and Health under the LindenWELL - WISE subdivision is currently in the midst of offering a Cyber Seniors Program. Cyber-Seniors is an intergenerational program where LU students teach seniors how to use technology. 20 seniors come to campus each Wednesday to share, learn, and connect. Students in Introduction to Community Structure and Organization are supporting the course.
"The Cyber Seniors program is a wonderful experience for public health students to learn how organizations work together to implement impactful, community programs. Students are also getting the opportunity to lead an evaluation for a community partner. Each week of Cyber Seniors, the room is buzzing with energy. Students and program participants are building real relationships and it is fabulous to see these connections," Associate Professor of Public Health Dr. Katie Shoff shared.
Read more about Lindenwood's community engagement in the fall edition of The Lindenwood, the University's magazine.