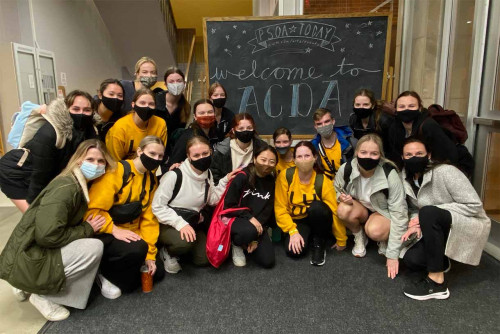 Students from Lindenwood's dance program participated in the American College Dance Association's conference, held in Milwaukee. During the conference, Lindenwood's 17 student attendees participated in master classes, presented research, and had constructive feedback sessions covering various forms, styles, and aesthetic dimensions.
Megan Mayer, a junior majoring in dance and cinema arts, showed an original work titled 'When the fire continues' for adjudication. One of the top performances, Mayer's piece was selected out of 36 for inclusion in the closing Gala concert. "The honor of being chosen for the Gala concert is a great testament to the quality of the student performers and the innovative works produced by the dance program here at Lindenwood University," Associate Professor of Dance Tricia Zwieier said.
In addition to Mayer's achievement, Zweier and Adjunct Instructor of Dance Amy Gammon, led more than 200 student conference attendees in classes.
Students from Lindenwood also debuted an original work in the Screendance showing. Performed by Leah Fry, Jamie Meier, and Alicia Orr, the piece was directed by Blake Hawkins with Christina DeSalvo as assistant director. An additional eight students from the University's dance and cinema arts programs supported the production.
A collection of student works, including Mayer's Gala concert piece, will be performed during Lindenwood University's Spring Dance Concert, held April 21-23 at the J. Scheidegger Center for the Arts.