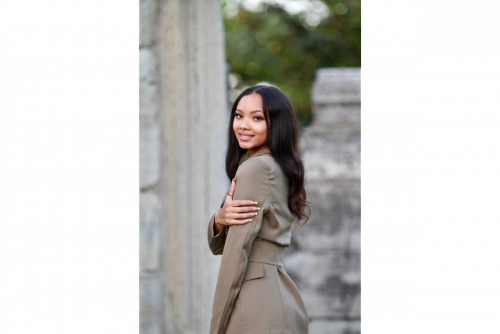 Lindenwood fashion business and design student Daeja Anderson was named the recipient of the 2021 TJ Walker Scholarship Fund.
The scholarship is funded by The Black Design Collective and provides financial awards to students looking to pursue a future in fashion design. It covers full tuition, including books, fees, and supplies for one academic year. Anderson applied for the scholarship in April and was selected from a worldwide pool of applicants.
"I was looking for way to help pay for college and when I found this scholarship on Lindenwood's website, I became really interested in the organization and thought it was a great opportunity," Anderson said
The TJ Walker Scholarship Fund is one of the most sought-after opportunities available for fashion students in terms of providing professional and financial support and The Black Design Collective is dedicated to diversity, equality, and inclusion for all fashion students.
The Black Design Collective is one of the leading fashion organizations made up of historically accomplished industry professionals of color. The Black Design Collective strives to influence and increase opportunities for fashion designers of color across the globe.
With a lifelong love for clothes and fashion, Anderson knew that it was something she wanted to pursue as a career. She chose the program at Lindenwood because of its reputation and its affordability.
In the classroom Anderson is eager to learn as much new information as she can and is anticipated to graduate in two years.
"She is a great student who is very dedicated to her class work as well as the program as a whole, serving as the secretary for the Lindenwood Fashion Society," Visiting Fashion Design and Technology Instructor Ameli Skoglund said.
In the fashion industry there is a broad variety of areas to learn and pursue and although Anderson loves creating ball gowns and higher end clothes, she is not limiting herself.
"The goal is to learn stuff that I haven't learned previously, and so far I am doing that," Anderson said. "For me, winning the scholarship has mentally given me confidence and it has motivated me to continue to do what I love. One day I would love to have my own brand and business."