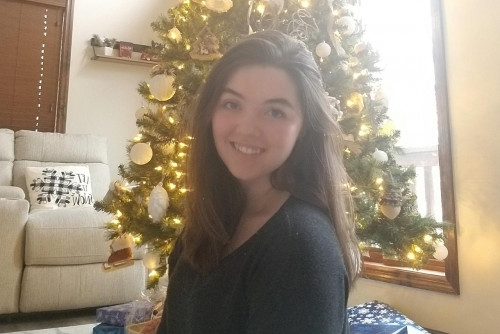 Lindenwood student Krislyn Gilbertsen has been named a recipient of the U.S. Department of State's Benjamin A. Gilman International Scholarship, which is administered by the Institute of International Education.
"I am excited to participate in my upcoming study abroad program in Italy. It has been a childhood dream of mine to travel and stay in a country full of rich history, immersive museums, and divine culinary dishes, Gilbertsen said. "With the Gilman Scholarship, I can make this childhood dream of mine come true. No longer a dream, but a wonderful and exciting reality."
From O'Fallon, Mo., Gilbertson is pursuing a degree in business administration with an emphasis in marketing, and a minor in fashion business and entrepreneurship. Gilbertsen joined Lindenwood University as a transfer student, having completed her associate degree before enrolling at LU.
"I wanted to study abroad for one, because I have never explored outside of the country and I want to have the chance to see and experience a new culture and way of life," Gilbertsen said. "I get the opportunity to share my experience; where I went and what I saw, what is a must-do, and help others with study abroad questions."
The competitive Gilman Scholarship supports students with limited financial resources in pursuit of international internships and study abroad programming. With more than 4,000 students applying for the award, Gilbertsen's selection marks one of only 23 students from Missouri chosen. In addition, Gilbertsen is only the second student from Lindenwood University to receive this prestigious opportunity.
"Krislyn's award also represents the support we provide for students who want to step out of their comfort zone and dive deep into encountering diversity firsthand," Associate Provost of Engaged Learning Dr. Mark Valenzuela said. "Elizabeth Snell supported her in the application process for her study abroad program, for the Italian visa, and for the Gilman Scholarship. Lis Ziegenfuss in Student Financial Services was also instrumental in Krislyn's Gilman Scholarship application. It is a good feeling knowing that our colleagues can help students' life-long dreams come true."
Gilbertsen will spend a semester in Verona, Italy taking classes, participating in workshops, and field studies that focus on the nation's diverse culture.