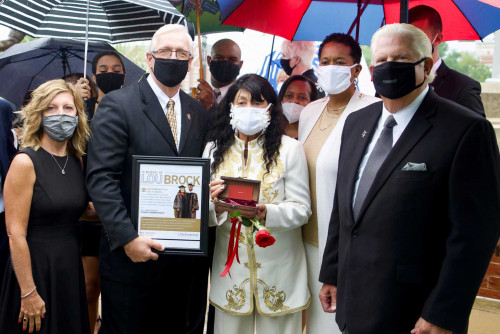 Lindenwood University and the city of St. Charles remembered Lou Brock at a memorial service held on campus at the Lou Brock Sports Complex Saturday morning.
Dr. John Porter, president of Lindenwood University, and Mayor Dan Borgmeyer shared sentiments with Rev. Jacki Brock and members of the Brock family. Mayor Borgmeyer presented the Brock family with a commemorative key to the city, and Lindenwood University presented her with a framed photo celebrating Brock's legacy and their partnership with the institution.
Rev. Brock addressed the family and community members gathered, "What a blessing it has been for us to be of service to this community and we've all enjoyed it and benefited from it", she shared. "And this statue, I pray, will be a symbol of encouragement to students, past present future, and to the community as a part of symbolic representation of a man who sowed seeds, good seeds, everywhere he went."
Members of the St. Charles community observed the ceremony on campus, and many paid their respects at the Lou Brock statue. Following the memorial service, Porter and his wife Beverly joined the processional through St. Charles to attend the funeral in Florissant.