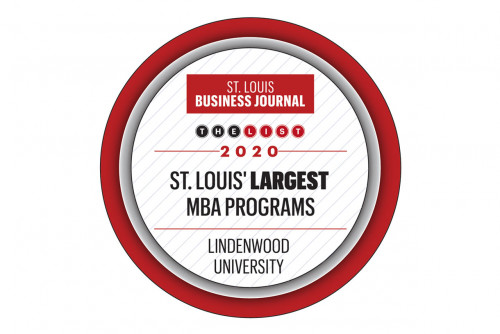 Lindenwood University's MBA program has been ranked third by the St. Louis Business Journal on their list of St. Louis' Largest MBA Programs. This ranking demonstrates Lindenwood's commitment to offering a high-quality program that is flexible to students' needs.
Dr. Michael Marzano of the Robert W. Plaster School of Business and Entrepreneurship explained the strengths attributed to Lindenwood's MBA offerings. "One of the major reasons for the popularity of our MBA program is the variety of 'emphases' that a student can earn. All MBA students are required to take five elective courses, and if they take four electives in a particular discipline, such as Finance or Supply Chain Management, they will earn an emphasis in one of the dozen offered. Often the emphasis is a means for the student to switch careers, become more marketable, or more promotable at their existing firm."
The MBA program at Lindenwood program is accredited by the Accreditation Council of Business Schools and Programs (ACBSP), which means the program is managed in a high-quality fashion. Marzano shared, "Most of our faculty have not only excelled academically, but also bring years of industry experience to the classroom. Some of our faculty perform research and publish in leading journals, but we pride ourselves on being student centered."
Lindenwood's MBA program is Lindenwood University offers several formats for the MBA program, including on-campus, fully online, and a hybrid mix of both delivery modes. With competitive tuition and opportunities for students to take internships earning academic credit, the programs at Lindenwood are supportive of student development and as Marzano states, "Our main job is to prepare the MBA student for career success."
Applications are currently being accepted for Lindenwood's MBA program. For more information, visit the Lindenwood MBA website. Additionally, the full list is available on the St. Louis Business Journal website.