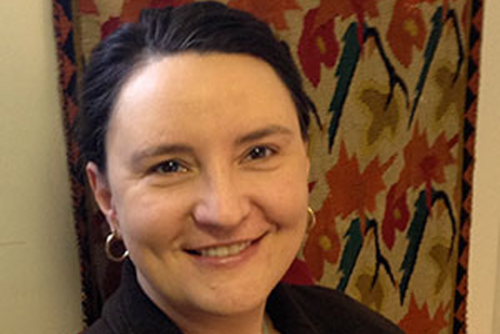 Dr. Justine Pas, professor of English and faculty advisor for Lindenwood's Honors Academy, was selected to participate in the 2021 Curt C. and Else Silberman Faculty Seminar.
The virtual seminar, presented by the United States Holocaust Memorial Museum, brought together faculty to examine the history and development of the concept of genocide. The seminar was focused on the topic "Teaching Mass Atrocity: The Holocaust, Genocide, and Justice."
"I will be designing and teaching a 200-level course about postwar representations of the Holocaust. The course will have a transnational focus, so students can examine how commemorations of the Holocaust in the U.S., Poland, Israel, and Germany address unimaginable atrocity," Pas shared. "By framing the Holocaust as instrumental in the development of international laws against genocide, the course will challenge students to examine their own assumptions about justice and peace—and, of course, help them develop empathy for the human experience across space, time, culture, and language."
"Dr. Pas was selected from a competitive group of international applicants and participated with scholars from prestigious universities," said Dr. Kathi Vosevich, dean of the College of Arts and Humanities. "Her participation will help to raise the reputation of Lindenwood both nationally and internationally."
Supporting Lindenwood's commitment to Real Experience. Real Success., Pas' involvement with the 2021 Curt C. and Else Silberman Faculty Seminar demonstrates a continued commitment to scholarly excellence and pedagogical growth by Lindenwood faculty and enriches the future classroom experience of students.