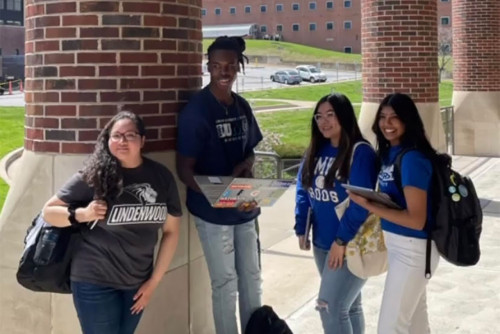 Public health student Rosa Rodriguez was selected as one of ten students across Missouri to participate in the Missouri Department of Higher Education and Workforce Development Journey to College Student Ambassador program. Rodriguez joined the other student ambassadors on April 23 in Jefferson City for a day-long workshop meeting.
Student ambassadors' job is to promote the Journey to College Program which is sponsored by the Missouri Department of Higher Education & Workforce Development. This program helps Missouri students and families plan and pay for college.
In Jefferson City, the ambassador day workshop consisted of pictures, video interviews, and sharing what their college journeys in Missouri have been like so far.
"In the individual interviews, we were asked things like, why we chose our colleges, how we funded our education, and what advice we wished we had known and learned. Generally, it was sharing what our college experience has been," Rodriguez explained.
The ten student ambassadors represented a large variety of college students in Missouri with different majors which included transfer and private and public students.
Rodriguez was made aware of the opportunity by Lindenwood public health professor Dr. Amy Estlund who encouraged her to apply.
Rodriguez mentioned she was surprised she was selected and attributed her Lindenwood education to her success, "Being a student at Lindenwood has helped me grow more confident as I try out new things."
"I am fortunate I got to enjoy this fun experience and meet other students from around Missouri. I'm glad I could share part of my college journey and experience with the Missouri Department of Higher Education and Workforce," Rodriguez said.