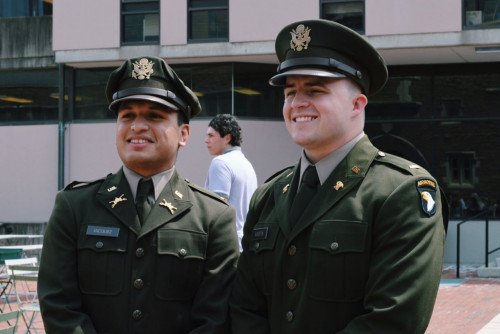 Lindenwood University Class of 2022 graduates Brian Kristin and Isaac Jacquez were commissioned as Second Lieutenants in the United States Army on May 19.
During their time at Lindenwood University, Jacquez and Kristin participated in the ROTC program and were part of the Gateway Battalion, comprised of students from Lindenwood University, Washington University in St. Louis, Saint Louis University, and University of Missouri St. Louis.
Upon completion of their undergraduate degrees from Lindenwood and fulfillment of the ROTC Program requirements, Kristin and Jacquez will begin their service. Kristin will report to Fort Lee, Va., while Jacquez will head to Fort Benning, Ga. Lindenwood University is proud of the real experiences Jacquez and Kristin encountered during their undergraduate years and wishes them great success in their military careers.