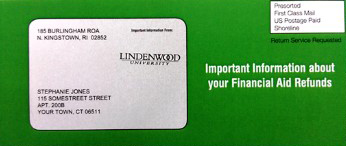 Partnership with BankMobile
New students will receive a BankMobile Refund Selection Kit in the mail after they have enrolled in class.
The kit will include a Personal Code that the student will use to go online and choose their refund preference: Electronic Deposit to another account, Electronic Deposit to a BankMobile Vibe account, or paper check delivered by USPS. The selection is made at www.RefundSelection.com. A BankMobile Card is only issued if the BankMobile Vibe account is selected.
If you did not receive a BankMobile Refund Selection Kit, please make sure Lindenwood has the correct address. If the address is not correct, please go to Academic Services in Spellmann Center or email academicservices2@lindenwood.edu to update it. Once the address has been updated, please e-mail studentrefunds@lindenwood.edu from your student email account to request a new personal code.
If you do not log on with BankMobile to choose your preference your refund will be delayed.
Existing students who had the Higher One account were sent a new card and will use their old login information to access their account.
Requesting a Refund…
Requests can be submitted either in paper form at the Cashier's Window in Roemer Hall, online through the Student Portal on the My Billing Statement Page, or by sending an e-mail to studentrefunds@lindenwood.edu. Requests are not accepted in any other form.
Refund requests sent by e-mail must include the following in the body of the e-mail (they not be accepted as an attachment or from a secure server):

Name
Student ID
Term for which you are requesting funds

Refund requests must be submitted by Sunday at midnight to be considered for that week.
The request must be on file and the credit must be on the account by Sunday at midnight.
Disbursements will begin the second Friday of every term.
Students will receive a FULL refund of all available credit unless requesting that a portion go back to their lender. Declining a Federal Direct Loan
If no credit exists, request will be considered void after 60 days.
Important Information
Please notice this change to the refund policy:
Beginning in January 2019 (WIN QTR, SP SEM, SP MBA I 19 and all future terms) only one refund request per term is required. We will process additional credits weekly as they are posted to student accounts. If you wish to have the overage sent back to your lender or have any other specific instructions, we will still require that information from you in the form of a request.
If you are issued a book voucher and it expires the week that you are receiving a refund, the full amount of the book voucher is taken out and an additional refund request must be submitted.
If a credit card was used to pay on a student account, and there is no other payment made by the student, the credit on the account must be returned to the credit card used to make the payment.
If the credit on the student account includes a credit from a Parent Plus loan, the refund will be issued in the form of a check, up to the amount of the plus loan, to the parent and will be mailed. Any remaining credit will be issued to the student. If the parent wishes for the student to receive the credit, a letter must be faxed to (636) 949-4845 or brought to the business office and must contain the student's name and ID, permission from the parent for the student to receive it, and the parents' signature along with a copy of their photo ID.
The list for the current refund week will be made available by Thursday afternoon. If you would like to see if your name has been added to the current list, please call the main line, (636) 949-4650, at that time.
To view our institution's contract with BankMobile, a Division of Customer Bank, click here.
Contact Information
Christina James
Lead Processor, Student Refunds
(636) 949-4392
cjames@lindenwood.edu
Tina Wolfe
Processor, Student Refunds
(636) 949-4496
twolfe1@lindenwood.edu
Mubera (Bera) Komsic
Assistant Refund Processor
(636) 949-4930
mkomsic@lindenwood.edu