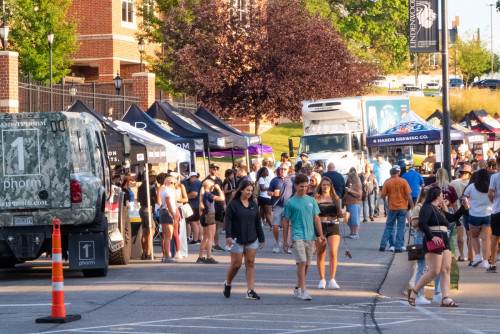 Homecoming is an opportunity for students, alumni, community members, friends, and parents to celebrate Lindenwood and enjoy events on campus and in the greater St. Charles city.
This year, Lindenwood's homecoming activities will take place in-person, October 4-9 with a variety of different events and activities. The theme for this year is "Legends and Lions".
Homecoming week will kick off with the second annual food fight and the student banner competition.
The Student Organization Fair will take place on Wednesday, October 6 and allows students to highlight their organization by matching their booth to the homecoming theme.
On Thursday, October 7, Lindenwood will host its annual Lip Sync and Pep Rally in the Hyland Arena where student organizations, residence halls, and athletic groups perform lip syncing and choreographed dances to songs revolving around the Homecoming theme.
Friday, October 8 is a fun filled day with open houses, campus tours, and much more. The Warner Hall Open House invites alumni to visit the new alumni lounge and coffee bar. Campus tours will be offered for alumni and friends, tours begin in Warner Hall. Later that day, students can enjoy a bonfire at the new lakeside amphitheater with music and free popcorn form Sweet Poppins.
While students are enjoying the bonfire, employees, alumni, and friends are invited to join Lindenwood President Dr. John Porter at the Lindenwood University Fall Gala. Tickets can be purchased through LU Box Office.
On Saturday, join Lindenwood on Main Street St. Charles for the Homecoming parade starting at 10 a.m. at Schlafly Bankside. The parade will run about an hour and end on Monroe Street. There will be a shuttle from the Lewis and Clark Boat House to the Lindenwood campus from 9 a.m. to 1 p.m.
Following the parade, show your Lindenwood spirit at the Lion Pride Tailgate and Homecoming football game.
Lindenwood athletics is also hosting a Youth Sports Clinic in Hyland Arena and the Evans Commons Recreation Center.
Enjoy live music later that evening at the J. Scheidegger Center for the Arts as The Haggard Brothers with special guest EmiSunshine perform.
For a full list of events visit the Homecoming page.