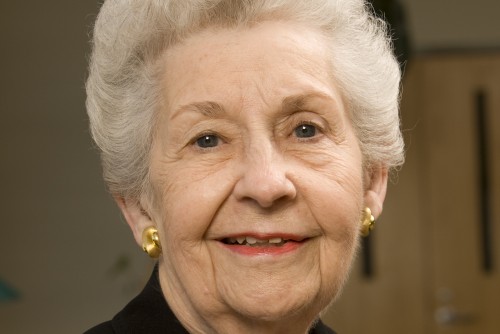 Mrs. Rauch joined the Board of Directors in 1989 and spent many years as the board secretary. The education of young women was always one of her top priorities.
"Mother was passionate about the education of young women," said Rauch's daughter, Lucy Rauch, a current member of the Board of Directors. "Helping young women advance their education and their future was one of her motivators."
Mrs. Rauch's impact was even broader. She was involved in a critical decision to save the institution from ruin. That decision was the foundation for the flourishing Lindenwood of today.
"Mother had brilliant administrative and executive talents," Lucy said. "She knew how to talk to people and how to listen. She spent a lot of time thinking about what was important for Lindenwood and considering what could be done to preserve its prestige."
One of the highlights of Mrs. Rauch's involvement at Lindenwood was the 2005 dedication of Rauch Memorial Hall, which she named in honor of her late husband, Henry P. Rauch, her husband's father Francis B. Rauch, and his father, Henry G. Rauch. Another highlight came in 2009 when she retired from active board service and became a life member of the board of directors. She received an honorary doctorate.
Mrs. Rauch was lovingly referred to by then-President Dennis Spellmann, who worked side by side with Mrs. Rauch for many years, as Lindenwood's "Head Butler," which meant she played an important role in presiding over the annual Butler Society Dinner to honor top donors.
"Elizabeth leaves a legacy of inspiration and dedication," said Board Chairman Jim J. Shoemake. "She epitomized what it meant to be a good board member, a great alumna, and a wonderful role model."
Mrs. Rauch's leadership impact went beyond Lindenwood. She worked with many other organizations, including the American Red Cross, the Salvation Army, the St. Louis Archdiocesan Development Appeal Council, the Women's Division of the United Way of Greater St. Louis, the St. Charles Historical Society, SSM Health Care, Youth-In-Need, and others.
Her funeral mass was Feb. 25, 2016, at St. Charles Borromeo Catholic Church.