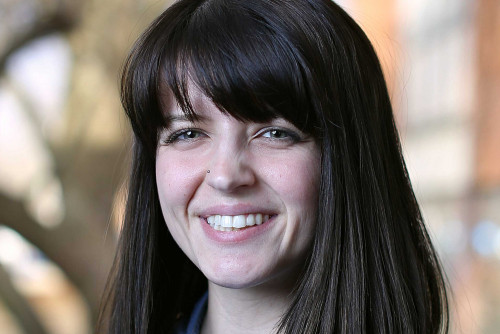 Ashleigh Brandmeyer graduated on May 5 along with the rest of the class of 2018 at Lindenwood University-Belleville, but unbeknownst to her, she landed her dream job the very day before she officially became an alumna.
"I interviewed May 4, graduated on May 5, and I started my new job on June 4," said Brandmeyer. "It was all kind of a whirlwind and seemed like a crazy decision to make just a few weeks after graduation, but it's one of the best decisions I've ever made."
Brandmeyer, who was named the Outstanding Humanities Student of the Year for the 2017-2018 academic year, accepted the position of video and audio production specialist for Mercy Multiplied, a nonprofit Christian organization that helps girls and women between the ages of 13 and 28 who need assistance managing life controlling behaviors and situations that could vary from eating disorders, self-harm, drug and alcohol addictions, unplanned pregnancy, depression, sexual abuse, and sex trafficking.
"I feel truly blessed to be able to work for a cause that matters to me," said Brandmeyer. "This opportunity allows me to make an impact by sharing stories of how lives are changed by this organization, and I can't even begin to express the gratitude I have that everything lined up for me."
As a mass communications graduate with an emphasis in broadcasting, Brandmeyer said that studying at Lindenwood University-Belleville was a very special experience for her that prepared her to take on a professional role like this.
"As a transfer student who came to Lindenwood my junior year, the class sizes, personalized instruction, and specialized content area immediately attracted me," she said. "During my time at Lindenwood Belleville, I worked on numerous creative projects, including writing, directing, and producing my own film, and I couldn't have done that without the support of my professors and the collaboration with my peers. That experience undoubtedly prepared me to become a professional in this field."
Now as a member of the marketing department for Mercy Multiplied, Brandmeyer produces weekly podcasts, creates digital marketing materials, and manages social media platforms. Even though she is geographically far from the Belleville campus, Brandmeyer said her former professors are still resources for her, even from so many miles away.
"Whenever I run into a technical difficulty or need input on a project, it's not unusual for me to reach out to my former professors like [Chris] Sabo, who will help me find a solution to the issue at hand," she said. "I know I've made life long connections, both professionally and personally, because of Lindenwood Belleville."
Along with her dream job, Brandmeyer said that she is acclimating to her new city pretty well.
"I love Nashville!" she said. "There's so much to explore, and between the music and food and fun, I'm always seeing something new. I tell people this a lot, and I'm not just saying this, but if my family, the St. Louis Cardinals, and Lindenwood University-Belleville were right here in Nashville, I'd never have to leave."