Award-winning movie, television, and stage actor Stacy Keach will come to Lindenwood University for events at 1 and 4:30 p.m. on Sunday, Nov. 14, in the university's Young Hall Movie Theater. Both events will include a showing of the 1972 film "Fat City." Directed by Jon Huston the acclaimed film about two boxers in different stages of their careers includes Keach's first starring role. The events are presented by Cinema St. Louis.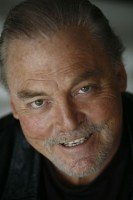 At the 1 p.m. event, Keach will be presented the St. Louis International Film Festival Lifetime Achievement Award and will be interviewed by Riverfront Times theatre critic Dennis Brown. The 4:30 p.m. showing will include a question-and-answer session with Keach.
In addition to "Fat City," Keach has appeared in more than 50 films, including "The Heart is a Lonely Hunter," "The Long Riders," and "That Championship Season." On the stage, he has performed in dozens of productions, including as the title character in "Macbird," which satirizes Lyndon Johnson as a latter day MacBeth, as Stanley Kowalski in "A Streetcar Named Desire," and as the title character in "Hamlet" on Broadway. On television, he portrayed the title character in "Mickey Spillaine's Mike Hammer" from 1984 to 1984 and won a Golden Globe and an Emmy nomination for his portrayal of the title character in the TV movie "Hemingway." He played Ken Titus on the Fox show "Titus" from 2000 to 2002.
Keach has won numerous other awards as well, including a number of Obie Awards for his work on the Broadway stage.