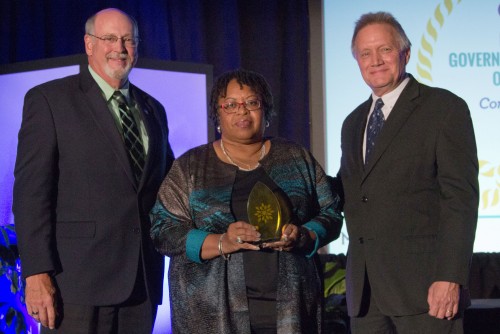 Angela da Silva, adjunct instructor of recreation, sport, and tourism at Lindenwood University, recently received one of the Missouri tourism industry's top awards – the Pathfinder Award – at the 47th Missouri Governor's Conference on Tourism.
Da Silva, who also works as an interpreter at Lindenwood's Historic Daniel Boone Home and Cultural Center, was among several honorees recognized at the annual Missouri Division of Tourism (MDT) awards banquet, held Oct. 14 at The Lodge of Four Seasons in Lake Ozark.
The Pathfinder Award is presented each year to an individual or organization that succeeds at reaching niche markets. In her role as an instructor at Lindenwood University, da Silva is in the unique position to reach young adults and educate them on Missouri's distinct history.
"I've been really thankful for the 20-year relationship I've had with MDT and being able to showcase the African American history of the state," da Silva said.
Among her classes is one focusing on Missouri heritage, which gives students the chance to explore historic communities, such as Arrow Rock and Boonville.
Additionally, da Silva is the owner of the National Black Tourism Network, which hosts media tours and special events that showcase Missouri history.
"This is a great award for Angie and she is well deserving of it," said Joseph Lovell, associate professor and chair of the department of recreation, sport, and tourism administration. "We value her contributions to our department, and the students are truly the ones who benefit from her knowledge and experience."
The Missouri Governor's Conference on Tourism features educational workshops and noted guest speakers who address a variety of topics related to the tourism industry. More than 200 people attended this year's event.