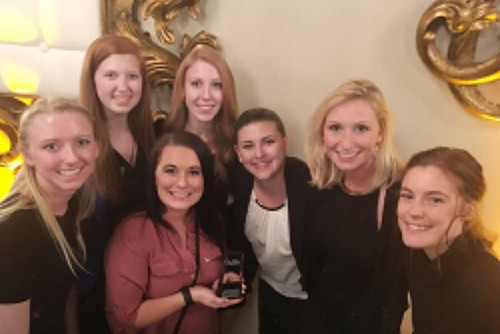 A team of advertising students from Lindenwood University recently won the top prize at the St. Louis ADDY Awards, presented by the American Advertising Federation. For the competition, the group assembled a multi-faceted advertising campaign for Snapple, which all student teams worked with for the competition.
The team consisted of Rebecca Gander and Cassie Klopmeyer. Their campaign included a direct mailer, an interactive billboard, a radio commercial, a jingle, social media, a media kit, a heated bus shelter design, a mobile app, a Macy's Thanksgiving parade balloon, a media plan, a budget, and other elements.
"The ADDYs are the toughest advertising competition in the world," said Kristy Tucciarone, chair of Lindenwood's Corporate Communications Department. "Four seasoned ad pros from outside the ninth advertising district agreed that the Lindenwood Snapple campaign was worthy of a Gold ADDY; this speaks volumes about our students and their abilities to enter their future careers and begin work from day one."
Since August 2014, Lindenwood students have won five ADDY Awards.
Photo cutline: Lindenwood University's gold medal winning advertising team consisted of (front, from left) Cassie Klopmeyer and Rebecca Gander. Also attending were (continuing, front from left) Morgan Riggs, Sierra Teson, Maggie Winchel, (back, from left) Jess Hodge, and Shelly Hoerner.