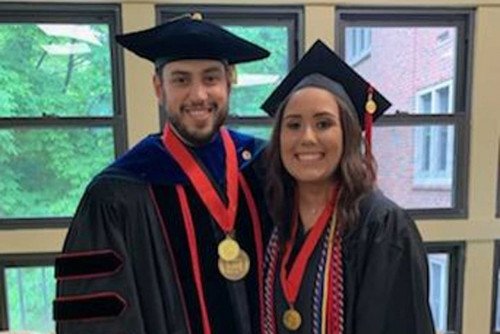 Lindenwood University graduate Kaitlyn Centini (BA, '19 – religion, history, art history) and Dr. W. Travis McMaken, associate professor of religion, have published a book review in the April issue of the journal Interpretation. This peer-reviewed journal provides resources to pastors, theologians, and other scholars of Christianity and is published quarterly out of Union Presbyterian Seminary in Richmond, Virginia.
Centini is now a graduate student in the Division for Late Medieval and Reformation Studies at the University of Arizona.
"My School of Humanities degrees from Lindenwood University continue to give me a wonderful head-start on my graduate education," Centini said. "Writing and publishing this review with Dr. McMaken was a great experience and gave me a first-hand view of how academic publishing actually works."
McMaken praised Centini's work on the project.
"Kaitlyn was wonderful to work with on this review," McMaken said. "She is a great ambassador for a Lindenwood education, and I know that she will be a credit to us for years to come."
Centini graduated from Lindenwood with a triple major and three minors and also received the Schoenhard American Heritage Award, the Harmon Religion Award, and the Peter Griffin Prize for Excellence in Undergraduate Historical Research and was a member of honors societies such as Kappa Pi Kappa (art history), Pi Gamma Mu (social science), and Theta Alpha Kappa (religion).