Lindenwood University alumnus Chris Abbott was recently named one of the St. Louis Business Journal's "30 Under 30," an honor recognizing the future leaders of the region and the local business community. Abbott, 29, is a small cap analyst for Argent Capital Management.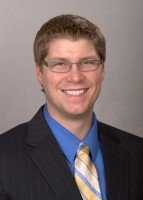 "It was a great honor to be selected for the top '30 Under 30,'" said Abbott, who was thankful to be nominated. "I've been working really hard since starting at Argent."
Abbott double-majored at Lindenwood, earning bachelor's degrees in finance and economics in December 2010. He earned his master's in finance in August 2013.
Abbott, a Vancouver, B.C. native, attended Lindenwood on an ice hockey scholarship. He remembers finding St. Charles on a map.
"Looking back, I couldn't have picked a better place to start my life and career," Abbott said. "I still keep in touch with some of my professors, and they have served as wonderful friends and mentors."
In addition to winning two national championships as a goaltender with men's ice hockey in 2009 and 2010, Abbott captained the Lindenwood University business student team that won first place in the St. Louis Regional Chartered Financial Analyst Challenge, an annual market research competition, in 2013. At Argent, Abbott's stock recommendations have more than doubled compared to the return on the small cap index (21 percent to 10.7 percent).
The Business Journal's 2015 list marked the 16th year it has compiled the list.