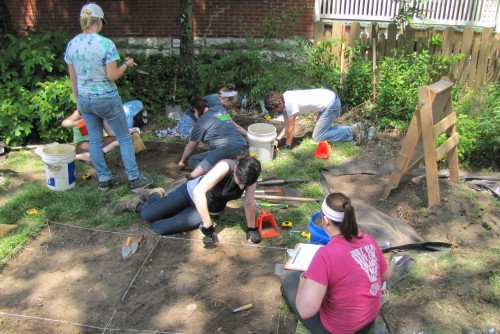 Lindenwood University's Department of Anthropology and Archaeological Research Program has started its 2014 field season. Through the end of June, Lindenwood students and faculty will be conducting archaeological excavations at two significant archaeological sites: the Louis Blanchette homestead site at 906 S. Main in St. Charles, and at Nathan Boone's home at the Historic Daniel Boone Home and Heritage Center (1868 Highway F, Defiance, MO).
Lindenwood University students work at the Blanchette homestead site in St. Charles.
Louis Blanchette is the founder of the city of St. Charles, settling there in 1769. Nathan Boone is Daniel Boone's youngest son and a famous militia commander in Missouri during the War of 1812.
Students began excavations at the Blanchette site on May 20, 2014. Work began at the Boone home on June 9. The project is led by Dr. Steve Dasovich, assistant professor of anthropology and archaeology at Lindenwood. Both project locations are open to the public, though there is an entrance fee to enter the Boone Home property. For further information, contact Dasovich at sdasovich@lindenwood.edu or 314-609-6132.