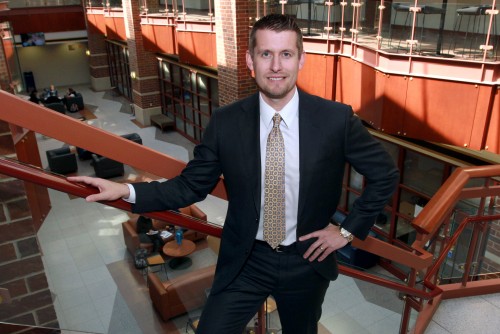 Ryan Guffey, PhD, assistant vice president for student development and special projects at Lindenwood University, has been awarded a Fulbright Scholar grant to lecture at Chulalongkorn University in Bangkok, Thailand, according to the United States Department of State and the J. William Fulbright Foreign Scholarship Board. He was selected from a pool of highly competitive applicants following the completion of an eight-month review process.
The Fulbright Program is the flagship international educational exchange program sponsored by the U.S. government designed to increase mutual understanding between the people of the United States and the people of other countries. The primary source of funding for the Fulbright Program is an annual appropriation made by the U.S. Congress to the U.S. Department of State, Bureau of Educational and Cultural Affairs; participating governments and host institutions, corporations, and foundations in foreign countries and in the United States also provide direct and indirect support. Recipients of Fulbright grants are selected on the basis of academic or professional achievement, as well as demonstrated leadership potential in their fields.
Guffey will reside at Chulalongkorn University, which is regularly ranked in the top 200 universities in the world, from June through October 2012. He will instruct graduate and doctoral courses in comparative education and development; help develop the curriculum for a graduate degree in international and comparative education; perform development training for professional staff; serve as a liaison for the Eighth Biennial Conference of the Comparative Education Society of Asia; and conduct research on Thai history, culture, and education.
"This opportunity is a true honor and I take pride in knowing I will be conducting this work at Thailand's oldest and most prestigious university," Guffey said. "I'm looking forward to the tremendous exchange of ideas that will take place during this experience, and I hope to contribute in a beneficial way to the initiatives that will be under discussion."
Guffey began his career at Lindenwood as director of international relations in 2003. He also served as associate dean of campus life from 2004 to 2007 before assuming his current role as assistant vice president for student development and special projects.
Additionally, Guffey has served since 2008 as associate director of Lindenwood's Center for International and Global Studies and, as of 2009, an editor for the Journal of International and Global Studies. In the fall of 2012, he will also assume the role of chairperson of the newly developed international relations and Chinese studies programs.