Lindenwood University-Belleville senior De'Marcus Terry on Friday became the first student to receive a university scholarship from Belleville's Community Kindness charitable organization.
Terry, a sprinter on the Lindenwood University-Belleville track team from Clewiston, Fla., will receive $1,000 to go towards his tuition plus additional money for his books to help him complete his education.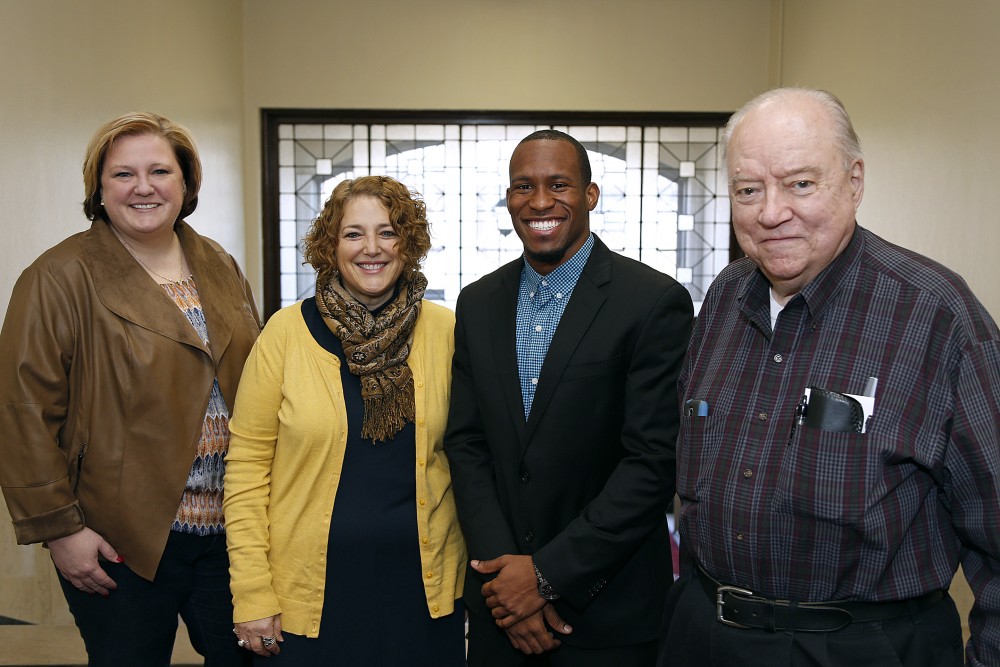 "This is such an honor for me to be chosen to receive this scholarship," Terry said. "It's very important for me to give back to the community and pay it forward. So, to get something like this makes me even more inspired to make the most of the opportunities I have been given so I can put myself in a position to help others."
A senior in business administration with a minor in marketing, Terry plans to graduate at the end of the current semester. He said his goal is to eventually be the CEO of his own company that will invest its profits in helping others.
Community Kindness founder Charlie Kramer said the organization donates about $60,000 a year to local causes. The money is generated by a thrift shop at the corner of East Main Street and Mascoutah Avenue in Belleville. Kramer said he has been impressed with the many things Lindenwood Belleville has done to reach out into the community to help others. So, he decided he wanted to give something back to the school by starting the scholarship.
"We hope this is just the first one and that it's going to go on and on," Kramer said. "Education is so important and we wanted to be able to reward a person who is working hard to make themselves a successful member of society."
The winner of the competitive scholarship was determined based on essays by the students who applied for it. Terry's essay was about resisting bullying, helping others, and appreciating the opportunities that he's been given.
Amy Determann, assistant professor of business and entrepreneurship, said she couldn't think of a more-deserving student than Terry.
"He's one of my best students, and I don't think I have ever seen anyone work harder," said Determann. "I don't know when he rests, but no matter how busy he is, you can always count on him to come through and to help out when he's needed."