Lindenwood Belleville former head athletic trainer, Bill Dill, has been named the NAIA Athletic Trainer of the Year, as announced on Tuesday by the National Association of Intercollegiate Athletics. Dill was at the helm of the athletic training staff since the inception of the athletic program in 2009, and was given the task of building his own department. In just six years, Dill has taken this athletic training department and staff to heights unparalleled.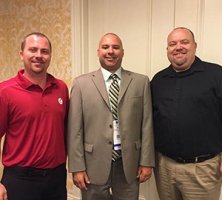 "I am honored to receive this award and know it could not have been achieved without the great staff of athletic trainers around me," says Dill. "We strive to be servants to our student-athletes and provide them the best care we possibly can. Additionally, the support of my wife has allowed me to serve the profession beyond my daily responsibilities. For that, I am indebted to her and forever grateful."
This year, Dill took a position to oversee the athletic training major at Lindenwood – Belleville and no longer serves as the head athletic trainer, although he provides a support role to the entire department.
During his tenure, he and his athletic staff have oversaw 36 varsity sports at Lindenwood Belleville. In 2015-16, the athletic training staff has taken over duties for men's and women's rugby, and women's field hockey; a year after the athletic department also added men's and women's ice hockey, as well as men's and women's swimming and diving.
Currently, Dill serves on three different committees in the athletic training community. He has served on the Illinois Athletic Trainers Association Region 4 since November of 2014, and the NAIA-ATA Professional Education and Research Committee since July of 2014. Additionally, he joined the newly formed NAIA Council for Student-Athletes, which was created in June of 2015.