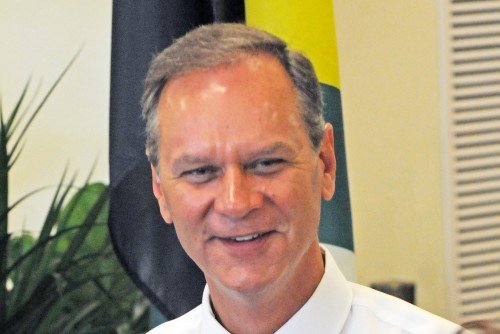 After nearly six years of service at Lindenwood University-Belleville, Dr. Jerry Bladdick has announced that he will be stepping down from his position of campus president in December 2015.

Under Bladdick's leadership, the Lindenwood Belleville campus has grown from an extension center offering only a handful of evening classes to a bustling full-service campus with a fall-term unduplicated student count that has increased from 900 in 2009 to more than 2,300 today.
Bladdick is also credited with increasing the number of degree programs from 12 in 2008 to 35 in 2014, as well as launching the school's intercollegiate athletic program, which began with just two sports and has grown to more than 32 today. Bladdick also oversaw the school's transition from the USCAA to NAIA two years ago.
One of the most significant effects that Lindenwood Belleville has seen under Bladdick's leadership is the increase in the number of new jobs that were created during the economic slowdown that started in 2008, just before he took the role of president.
"In 2009 Lindenwood Belleville only employed 13 faculty and staff members," Bladdick said. "Today the campus employs more than 100 full-time faculty and staff and countless part-time employees and graduate assistants."
Bladdick states that establishing the LU-Belleville campus as a full-service residential facility was one of his biggest challenges, given that the University had no housing to start with. Today, the University provides housing for over 900 students and includes two new traditional residence halls, a former hotel, three apartment buildings, and many former single-family homes.
"Even with my departure, Lindenwood is going to have to build a few more residence halls to keep up with demand," Bladdick said. "Today, for example, we don't have one empty room. My career here at Lindenwood has been nothing short of amazing and rewarding. The job as president is the best job a person could ever ask for. The campus is in the middle of a lovely community that supports it, and it is managed by some amazing leaders here in Belleville and St. Charles. Credit for Lindenwood's success and service to the community belongs to the faculty, staff, and students of the university. I was just the person who encouraged folks to follow through with their great ideas."
Lindenwood University's system president, Dr. James D. Evans, enthusiastically praised Bladdick's achievements as Lindenwood Belleville's inaugural campus president. "Dr. Bladdick has been tremendously successful in leading the Belleville campus team in the transformation of a very good evening-college site into an excellent full-service campus. Although he will serve Lindenwood for yet another eleven months, at this time I wish to express great appreciation of his dedication and superb work in behalf of the University, its mission, and its students."
Bladdick did not disclose what his future plans are, but said, "My futures plans are not any big secret; I just don't know what they are yet."