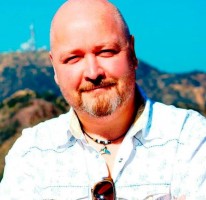 Lindenwood University's 2016-17 American Culture Speaker Series will conclude at 4:30 p.m. on Thursday, March 30, in Harmon Hall's Dunseth Auditorium with a presentation by author and professor Mark Boulton on the United States' political responsibility to members of its armed forces.
Boulton's presentation is titled "Failing Our Veterans: Why Politicians Have Repeatedly Let Down America's Servicemen and Women." Boulton is an associate professor of history and the Harry S. Truman Fellow at Westminster College in Fulton, Mo. He is author of Failing our Veterans: The G.I. Bill and the Vietnam Generation, published by New York University Press in 2014. Boulton's work considers how Americans reconcile citizenship with military service, especially after the 1944 G.I. Bill.
Boulton's research uncovered continuing patterns of lofty, patriotic praise for veterans from politicians, followed by shortfalls in funding for basic veterans' programs. As he gathered oral histories from Vietnam War-era veterans, he found an expanding disconnect between political rhetoric and actual support.
"The benefits of the original G.I. Bill of 1944 were hailed as a fitting reward for the returning soldier heroes of World War II," explains Boulton. "However, as American soldiers from the Vietnam conflict returned home, they found the G.I. Bill fell far short of what they believed they had earned."
In his presentation, Boulton will offer insights into today's discussions about what the U.S. owes its returning servicemen and women. Boulton's presentation is organized by Lindenwood's School of Humanities and funded by the Missouri Humanities Council and the National Endowment for the Humanities. For more information, contact the School of Humanities at 636-627-2244.