Mix together a struggling theater company, a tired and tattered production of "A Christmas Carol," a really bad actor and a visiting inspector from the National Endowment for the Arts, and you get "Inspecting Carol," an off-the-wall holiday farce. Everything that could possibly go wrong does as a fictitious theater company struggles to mount their annual production of the holiday classic.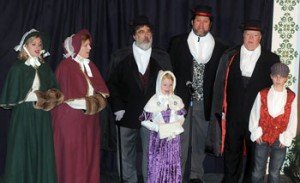 Because nothing's funnier than good actors playing the gamut of theatrical personalities as chaos reigns, the Brass Rail Players at Lindenwood will present this zany holiday treat for eight performances, Dec. 2-5 and Dec. 9-12, at Lindenwood University's Belleville Auditorium, the Premier Center for the Arts, 2600 W. Main St., Belleville, Ill.
Show times are 7:30 p.m. for Thursday through Saturday, and at 2 p.m. on Sunday. As an added bonus, holiday carolers and entertainment will be featured at each performance. Local church, school and community groups will perform Christmas music in the lobby from the time the box office opens (one hour prior to show time) until 15 minutes prior to curtain, and again at intermission. The Brass Rail Players' cabaret roadshow group, Off Track, will present a musical, audience participation pre-show that will begin 15 minutes before each performance.
"Inspecting Carol," was written by Daniel J. Sullivan and first produced by the Seattle Repertory Company in 1991, where he was artistic director.
The comedy stars Darlene Caviness of Swansea as Zorah Bloch, the desperate theater company owner; Rachel Feazel of Millstadt as the frazzled stage manager Mary Jane (M.J.) McMann; Dan Schmid of Collinsville as obnoxious method-actor Larry Vauxhall; Tim Shifflet as talent-challenged leading man Wayne Wellacre; Travis Beaupre of Belleville as hapless Bart Frances, who keeps getting his parts cut; Rachel Besse of Millstadt as the real NEA inspector Betty Andrews; Hugh Gallagher of Edwardsville as the stagehand Spike; Adam Brammer of Belleville as bratty child actor Luther Beatty, an oversized Tiny Tim; Jeff Metzler of Belleville as delusional Phil Hewlitt; Andrew Pearson of Shiloh as long-suffering business manager Kevin Trent Emery; Chris Wilson of O'Fallon as vocal coach Dorothy Tree Hapgood and Kingston Schmid of Fairview Heights as her rascally husband Sidney Carlton; Married couple Demetrius Chism and Denise Chism are sharing the role for four performances each of Jesse E. Parsons, an actor frustrated with the nutty troupe.
Dickens Carolers include Rachel Besse of Millstadt and Robert S. Hopwood, Karen Riesenberger, Robert Riesenberger, Jean Wilson and Steve Wilson, all of Belleville. Little Dickens Carolers include Joe Barnum and Morgan Barnum of Collinsville, Annie Feazel and Emily Feazel of Millstadt, and Lauren Mills and Brooke Mills of Kirkwood, Mo.
The production is directed by Maryann Totsch Hopwood, with assistant director Robert S. Hopwood. Tickets are $15, or $12 for senior citizens, students, military and group rates. The box office opens an hour before the curtain, or you can reserve tickets by calling (618)767-6016 or e-mailing tickets@brassrailplayers.org. Tickets also can be purchased at the Oregon Trail Roasting Company, 201 W. Main St., in downtown Belleville during business hours.
For more information about the Brass Rail Players community theater group, contact Executive Director Lynn Venhaus at (618) 416-2387 or lvenhaus@charter.net.
If you're looking to escape the holiday hustle-and-bustle or want to see something different this Christmas season, join us for "Inspecting Carol."