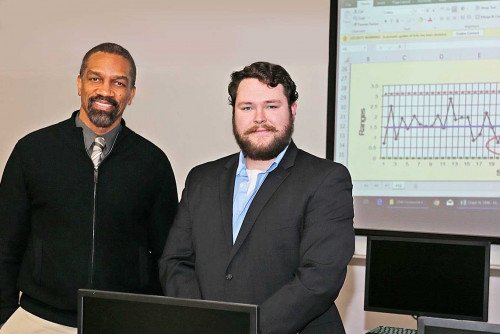 Taking a job that would allow him to travel while earning a paycheck was exactly the kind of summer job Preston Whisler was looking for in the time off between semesters at Lindenwood University-Belleville. That's why he was excited to be hired as a driver for a regional moving company. Little did he know that he would turn his summer job into a full-time career opportunity well before his expected graduation in December 2019.
Whisler began with a residential moving company as a class C non-CDL driver, traveling between Iowa, Missouri, and Arkansas. During those summer months on the road, Whisler began to research and learn more about federal Department of Transportation (DOT) regulations.
"I pursued knowing more about DOT regulations because my interest was sparked given the kind of work I was doing as a driver, and I've always been interested in safety and helping others," Whisler said.
In fact, when he was 16, he joined the volunteer fire service in his hometown of Auburn, Ill., and also served as an EMT for his local ambulance service, noting the experiences he was exposed to as a first responder reinforced the importance of safety and helping others throughout life.
"My version of light summer reading was diving into DOT regulations," Whisler joked. "But in all seriousness, from that, I began to learn a lot and saw some issues regarding the safety of our fleet and drivers, and I came to learn that the company was at a DOT intervention level."
With the help of his professor, Dr. Chris Gourdine, assistant professor of management, Whisler began to devise a plan that would put the company fleet back into compliance with DOT safety regulations.
"I'm always bouncing information off of Dr. Gourdine, and saw this as an opportunity to apply what I was learning in the classroom to what I was seeing in the real world and vice versa," said Whisler. "Basically, Dr. Gourdine acted as a consultant and assisted me in building the plan I presented to my boss."
Within 24 hours of presenting that plan, Whisler was asked to present it to the market manager, then to the president of the company, and then to the owner of the company.
"I would say those gentlemen certainly liked the solutions I presented to them because they then asked me to advise a task force that would be responsible for rolling out the safety compliance and driver training I presented in the plan," he said. "They also created a new managerial position and offered it to me. So now, I am the DOT safety and fleet compliance manager, a new position to the company."
In his new role, Whisler manages compliance and safety within the St. Louis, Kansas City, and Dallas markets, all while maintaining a full-time course load to complete his degree and still driving most weekends between Iowa, Missouri, and Arkansas.
"When an opportunity knocks, you have to open the door," said Whisler. "And I was uniquely situated to see some of the safety problems the company was facing, while at the same time having the resources and knowledge to provide solutions through my coursework at the university and mentorship with Dr. Gourdine."
Whisler said that during the time he spent with Dr. Gourdine devising the business and safety plan, Gourdine would refer him to resources and information, whereupon he began to build his class schedule around certain topics that would assist him with in his role at the company.
"I basically had the opportunity to customize my degree based on the practical information I needed in the moment," said Whisler.
With that, Whisler added an emphasis area to his degree in business administration–supply chain management, the evolving business practice consisting of efficient and effective procurement, manufacturing/operations, and distribution of goods. By taking on this emphasis area, Whisler has the opportunity to take more classes in this topic of study, which propelled his position within his company in a short time.
Photo Cutline: Business student Preston Whisler is pictured here with his professor and mentor Dr. Chris Gourdine.