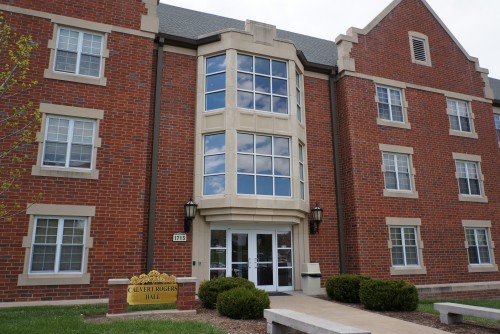 A set of changes is planned in Lindenwood University housing for the fall 2018 semester, including two coed residence halls, a freshman quad, and relaxed visitation regulations in off-campus housing units.
On a pilot basis, Calvert Rogers Hall and Rauch Memorial Hall will be coed in the fall 2018 semester. The first and third floors of each will be dedicated for female residents, and the second and fourth floors will be for males. Calvert Rogers is currently a female residence hall, and Rauch is a freshman residence hall.
"During the summer sessions of 2017, we piloted a coed resident hall for a limited number of students taking summer classes," said Terry Russell, director of housing. "We then conducted a survey of those students in the program and received an overwhelming positive response from students indicating how alive the resident hall felt and the respect they received from each other. This, along with student requests, led to doing a pilot on a larger scale for the fall 2018 term."
The university has long had freshman dorm buildings, but in the coming semester, they will be consolidated in Flowers, Mathews, Pfremmer, and Reynolds halls, which will be designated the Freshman Quad. The arrangement is based on the same philosophy around which the freshman residence halls were established, except on a larger scale with a specific area dedicated to freshman students.
"Creating a Freshman Quad will allow us to provide our incoming first-year students with a comprehensive educational experience that will build community and positively impact their classroom connections," said Dr. Shane Williamson, associate vice president for student life and diversity.
The university is also acting to consolidate some of its current housing options, placing more of the residential student population on campus, which is more convenient for students and easier to manage. Units currently on Oak Street and in the 1000 block of Powell in the First Capitol Housing area will be taken out of circulation in the fall semester.
In another pilot program, students in non-traditional housing units will be allowed visitation 24-7, but residence in non-traditional units will only be open to students who have attained at least junior class standing by the end of the spring 2018 semester and have at least a 2.0 GPA at the time of housing sign-ups.
Finally, McCluer Hall will be repurposed from a residence hall to a faculty/academic office building in the fall semester.
"While many of the changes will have the initial effect of causing students to move from the current housing assignments to different accommodations in the fall, the overall benefits from these moves more than outweigh that," said Williamson.
The Office of Residential Life encourages students who have questions or concerns to contact them at 636-949-4848 or ResLife@lindenwood.edu.