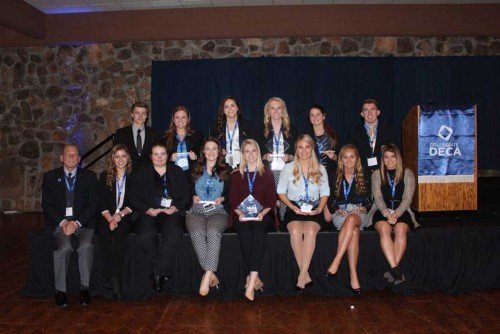 Collegiate DECA team members from the Plaster School of Business & Entrepreneurship at Lindenwood University participated in the annual state conference for the Missouri Collegiate Association of DECA on February 22 and 23 at the Lodge of Four Seasons, Lake Ozark. Over 140 college members – a total of 12 colleges and universities – were in attendance to compete in 25 competitive events involving individual case studies, team case studies and prepared presentations.
"I am so impressed with the dedication of our DECA Team members and what the DECA organization offers students at the high school and college levels," said Craig Felzien, director of the Duree Center for Entrepreneurship and DECA advisor for the Lindenwood team. "Our students recently served as judges for a regional high school competition as a way to give back. These competitions hone skills and build confidence for these future business leaders. In fact, we hope local high school DECA students will come to Lindenwood and join our collegiate team."
According to Felzien, the Lindenwood DECA team recently formed the first of its kind 'DECA Consultancy.' "This new endeavor will help local business owners solve real-world problems," he added. "Plus, it is another way in which we will give back and help students prepare not only for competitions but for their future careers."
Listed below are the 13 competitive events in which Lindenwood students participated, including recipients who received proficiency honors as well as those students who placed in each category.
Team Case Studies

Event Planning
Proficiency Recipients: Dillon Richardson and Braeden Westhusing
Marketing Communications
1st Place Winners: Jamie Greco, Monica Eckelkamp and Monica Friedman

Prepared Presentations

Advertising Campaign
1st Place Winners: Connor Hepler and Taylor Hepler

Individual Case Studies

Accounting
Proficiency Recipient: Jonathan Dunlop
Banking Financial Services
2nd Place Winner: Savannah J. Bice
Corporate Finance Services
2nd Place Winner: Savannah J. Bice
Fashion Merchandising & Marketing
Proficiency Recipient: Connor Hepler
3rd Place Winner: Noel Fazio
Hotel & Lodging
Proficiency Recipient: Taylor Reynolds
4th Place Recipient: Kassidy Groeper
Human Resource Management
Proficiency Recipients: Taylor Hepler and Hannah Smith
Marketing Management
1st Place Winner: Carli Gogol
Restaurant & Food Management
Proficiency Recipient: Taylor Reynolds
Sales Management Meeting
Proficiency Recipient: Carli Gogol
Travel & Tourism
4th Place Winner: Jamie Greco
Eligible students from Lindenwood's Collegiate DECA team will attend the International DECA conference in Washington, D.C. the week of April 10-15.
In addition to Lindenwood University, other schools participating in the state competition were as follows: Columbia College, East Central College, Lincoln University, Missouri Southern State University, Missouri State University, Southeast Missouri State University, Three Rivers College, University of Central Missouri, University of Missouri-Columbia, William Jewell College, and William Woods University.
For more information about the Duree Center for Entrepreneurship in the Plaster School of Business, or the DECA Collegiate Team at Lindenwood University in St. Charles, please contact Craig Felzien directly at CFelzien1@lindenwood.edu or call (636) 949-4432.
For further details about the Hammond Institute for Free Enterprise, please contact Carol Felzien in the Hammond Institute's administrative office in St. Charles at (636) 627-2915 or via email at CFelzien@lindenwood.edu.