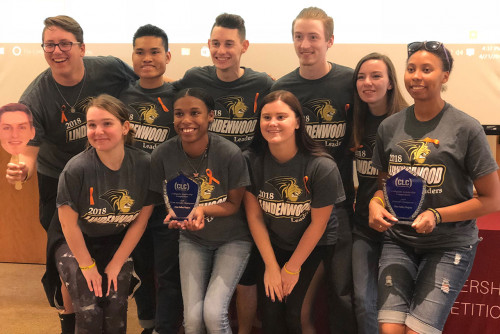 The Lindenwood University Collegiate Leadership competition team recently captured first place in regional competition and second internationally in the Collegiate Leadership Competition in Ohio.
A second group, the Gold Team placed fourth overall. The Black Team topped a field of nine others in regional competition and won second among 79 international teams.
Lindenwood Gold members included Jenna Biagi, Noel Burke, Seth Chilcott, Nam Nguyen, and Travis Russo. Lindenwood Black members included Jack Bedtke, Logan Friend, Abigail Hinman, Haley Holman, and Shayla Wilson.
The students all applied for the competition through the Involve U portal and were chosen at the end of the fall 2017 semester. Coaches for the team were Angie Royal, director of student involvement; Nikki Cornwell, associate director of student involvement; Taylor Schwede, administrative assistant in student involvement; and Rachel Tolliver of student involvement. Teams were chosen based upon the student's major, involvement at Lindenwood, class level, and the student's stated goals from the experience.
Two weeks prior to the competition, Travis Russo of the Lindenwood Gold learned that his leukemia had returned. The team had the option to drop out of the competition but chose to compete to honor Russo.
Royal said that competitions were team-based and required teams to complete various types of thought and leadership challenges.
"Words cannot express how proud I am of both teams," said Royal, "They were faced with a heartbreaking loss, and instead of quitting, they pulled together and won this competition in honor of Travis Russo. Both teams truly demonstrated how challenges can ultimately be overcome if you're willing to work hard and have a whole lot of heart."
Royal added, "Lindenwood is known for having championship athletics teams. To now be able to say that we're also champions in other areas, to me, speaks volumes about the quality of experience you get at Lindenwood."